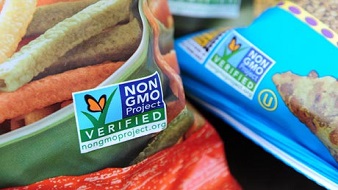 05 Aug

10 Companies that Support GMO Labeling

GMOs, or genetically modified organisms, are a hot issue, especially when it comes to labeling. So what is a GMO? It is a plant or animal that been genetically altered or modified to increase it's ability to resist pests, produce more food and grow in non-native environments.  Several companies do this to increase profits.

Many people believed all food with GMOs in it should be labeled as such.  California voters in 2012 rejected Proposition 37, a statute that would have required labeling of genetically engineered food, with some exceptions. It would have banned the practice of labeling genetically engineered food with the word "natural."Research from the Mayo Clinic shows harmful effects may include antibiotic resistance, decreased nutritional value, increased food allergies and toxicity.

When it comes to large companies, which ones support labeling of food with GMOs? Here are 10 companies that support GMO labeling.

1. Chipotle

Chipotle's vision is "Food With Integrity." It claims its food is all natural and even has a link on its website supporting GMO labeling and defining exactly what it is. I'll take black beans — hold the GMOs, please.

2. Organic Valley

Self-declared "organic and farmer-owned" company, Organic Valley, strongly opposes GMOs. It too has a link defining exactly what GMOs are and how bad they can be. It is companies like these that give hope to us carnivores and milk drinkers.

3. Amy's Kitchen

Amy's has always brought us natural and organic foods that taste great. It does not use GMOs in its foods because it says it is "uncertain of their safety," which is exactly the point of GMO labeling. Amy's helped found the Just Label It! campaign. People need to know what they are eating.

4. Earth Balance

"No, No, GMO" it reads at the top of the Earth Balance Non-GMO Commitment. Earth Balance partnered with the Non-GMO Project, a nonprofit working to spread the word and take action against GMOs and their harmful effects. It also works with the Institute for Responsible Technology to try and create a tipping point where people do not buy products with GMOs. The hope is this will diminish demand.

5. Numi Organic Tea

Almost two years ago, Numi became the first company to get approved to use the Non-GMO Project's verified seal. Apparently, many tea bags industry wide are made with genetically modified corn. Packaging can be a huge part of GMO issues, depending on what was used to make the packaging.

6. Udi's

"At Udi's, we use ingredients from natural sources. Our products are verified non-GMO by third party testing." This is straight from an email sent to a vegan mom who blogs about food issues regularly. Plus Udi's is gluten-free. Who'd have thought that companies really cared that much!

7. CLIF

The makers of the CLIF Bar invited Senator Barbara Boxer to their headquarters to talk about the bill requiring labeling of foods with GMOs. Since the late 1990s, CLIF has sourced its ingredients to be non-GMO. It's nice to know we can still be "natural" when we need something to energize us out on the trail.

8. Annie's

Annie's is a partner with Just Label It! and gives a strict guideline of how it ensures its products are non-GMO. Organic ingredients and natural suppliers with viable documentation allow Annie's to keep its bunnies GMO-free. That makes me so hoppy.

9. Traditional Medicinals

One of the few companies to earn non-GMO product verification in 2012, Traditional Medicinals is a leader in fighting genetically modified foods. It has more than 50 products with this verification, including its packaging and products. Now that's getting health-tea.

10. Nature's Path Organics

Also a non-GMO verified company, Nature's path has detailed information on GMOs on its site, along with tons of links to news and updates on what's happening with GMO labeling and protests.