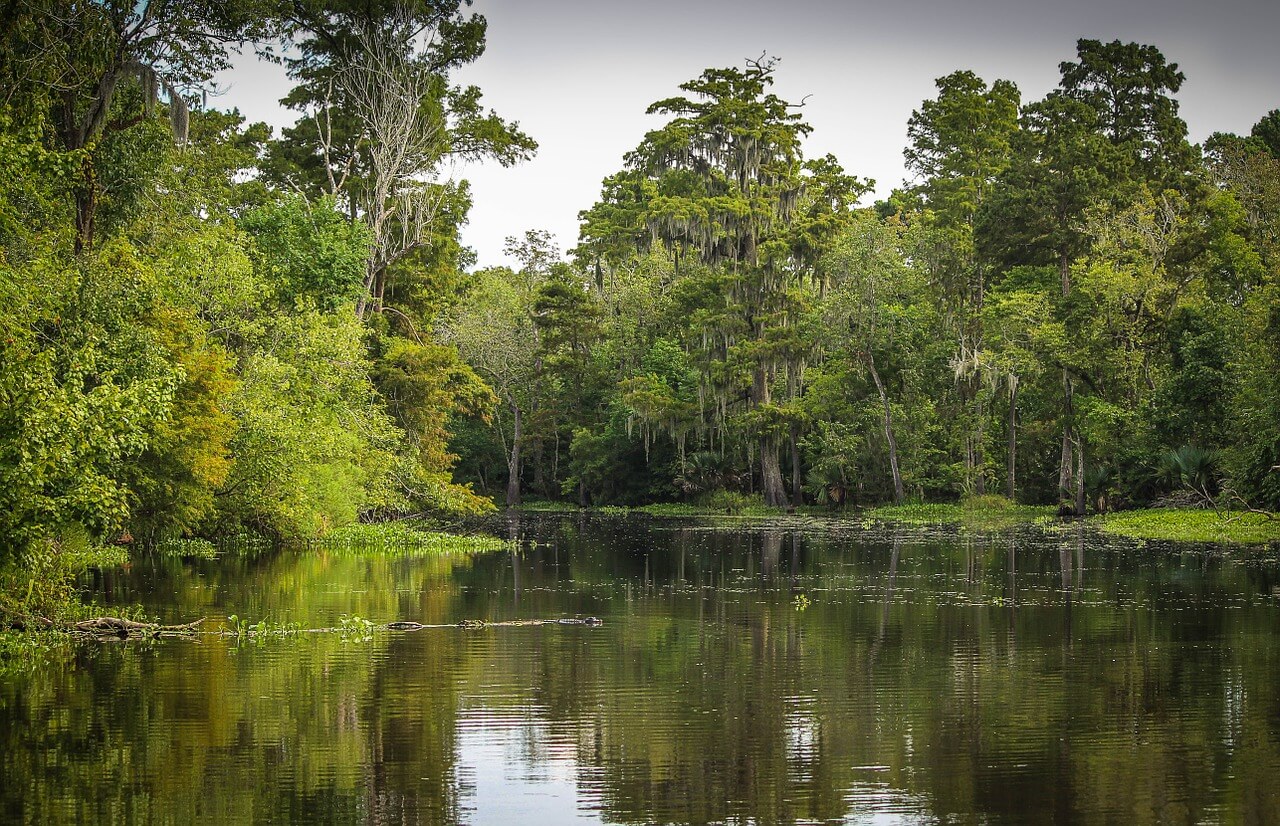 06 Oct

10 Reasons to Visit Houma, Louisiana

Louisiana = New Orleans. Well, this is the thought of many travelers. But not so fast if you too are of this mindset. For another way to experience Cajun country, take the short drive (57 miles southwest of the city) to the less-traveled coastal areas of Franklin, Morgan City and Houma in Louisiana's Bayou Country—a land of gators, dark cypress swamps and egrets. You will also find made from scratch southern food, famous movie scenes, quirky elements and plenty of adventure.
1. Cajun & Creole Cuisine.
Eat on the bayou at Bayou Delight Restaurant, where you will find everything from alligator sauce picante to crawfish Etouffee. Listen to live Cajun music while sipping on Louisiana brewed Abita Purple Haze beer. (Plan on 20 per meal.)
Stop by the ma' and pa' restaurant Boudreau & Thibodeau's Cajun Cookin' to fuel up for an afternoon of bayou exploration.  Try the Redfish Courtbouillon in a spicy Cajun sauce with a side of fried okra. Humor is detailed throughout the restaurant- on the walls and menu- with jokes from Boudreau & Thibodeau's, two well known characters in Cajun Lore. Find humor in their many light-hearted mishaps that start with jokes told on the walls throughout the space.
If your arteries need a break from fried dishes, retreat to Cristiano Ristorante. Yes, this is an Italian restaurant in the bayou. Baby tomatoes, oregano, basil parsley mint, watermelon, and romaine lettuce are grown out back. Artwork by the owner's father greets you at the entrance and is for sale. Kick back on their palm tree patio and relax with plates of Bruschetta and Black truffle raviolini. (724 High St, Houma, LA 70360; (985) 223-1130)
2. Take a Walking Tour to See Famous Movie Scenes.
Strolling the streets of Houma, you may recognize the Coca Cola mural painted on a wall in downtown featured in the 1999 film Crazy in Alabama. The People's Grocery Store, located near the courthouse, was used in the 2013 movie The Butler. Heading toward Schriever, visit Magnolia Plantation, which appeared in 12 Years a Slave. Unfortunately, Brad Pitt does not hang around the grounds for personal tours.
Understanding the landscape of where you are traveling makes for a more enriching traveling experience- especially when you are in a place with geography as unique as the one in Louisiana. More than 65 percent of Terrebonne Parish consists of wetlands and open water. The interactive, Bayou Terrebonne Waterlife Museum acquaints you with the surrounding waters and local culture. ($2 for kids 2 – 14 years old; $3 for 15-plus years old). (7910 Park Ave, Houma, LA; (504) 580-7200)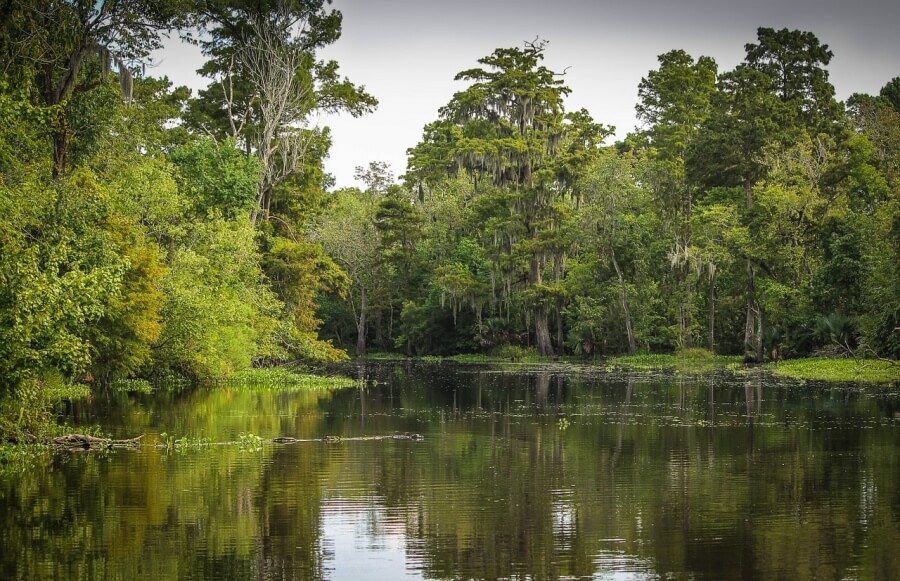 With so many swamp tours to choose from, standing out from the rest of the barge is key. Which is why Cajun singer/songwriter Rob "Black" Guidry, owner of A Cajun Man's Swamp Cruise not only sings hilarious songs he crafted but also pulls out a secret trick to lure the gators. By using chicken as bait, gators jump from the water to snag a treat, allowing for a guaranteed wildlife see. You will also enjoy the bayou waters among hanging moss and snarled cypress trees.
(250 Marina Drive, Gibson, LA 70356; (985) 868-4625), will show wildlife residing in Louisiana's swamps on a two-hour tour ($25 per adult; $15 for kids 12 and under).
5. Tour Chauvin Sculpture Garden
Quirky elements of town are always fun to seek out. Which is why a Tour Chauvin Sculpture Garden– an abandoned collection about thirty minutes from Houma- offers an experience you won't find anywhere else. The reclusive artist Kenny Hill converted his bayou property into his own whimsical narrative of the world while also working as a bricklayer in the town of Chauvin. The property—named one of the top twenty-five sculpture gardens in the world— contains more than 100 sculptures interlacing Biblical references in Cajun colors.
(No Admission. 5337 Bayouside Drive, Chauvin, LA 70377)
6. Chitimacha Museum
Dig deep into history at the Chitimacha Museum in Charenton where you will learn about southern Louisiana's original inhabitants. Known for their basket weaving skills, Chitimacha means "People of the Many Waters." The traditions of the tribal members are still held strong by newer generations. Many live on the reservation where the museum is located, where they have their own grocery store, casino, health clinic, schools and much more.
(No admission. 3289 Chitimacha Trail, Charenton, LA 70523; (337) 923-4830).
7. Tour Oaklawn Manor
Discover how southern elite lived in the 1800s among an 1837 Greek revival mansion with a Tour of Oaklawn Manor . Inside is furnished with bird carvings, European antiques and a massive John James Audubon collection. Built by Irishman Alexander Porter, the manor once resided among a flourishing sugar plantation. The former governor of Louisiana, Mike Foster who lives onsite, now owns the mansion. (Admission: $15 per adult; $10 children & students; Group Rates Available for 10 or more; 3296 Oaklawn Drive, Franklin, LA 70538; (337) 828-0434)
Evidence abounds of the mid-nineteenth century town from which Franklin originated. You can view nearly 420 structures that are on the National Register of Historic Places. Six pre Civil War houses on Main Street that are easily recognized showing off Greek revival architecture. Don't forget to admire the moss-draped live oak trees along the banks of the Bayou Teche. For a walking and driving tour brochure contact the Cajun Coast Visitors & Convention Bureau at (800) 256-2931.
9. Museums
Main Street peaked your curiosity regarding the grand 19th century houses? To catch a glimpse of the unique 1851 Greek revival style, visit the Grevemberg House Museum on a 45-minute tour. The authentically restored townhouse contains fine antiques and early artifacts from St. Mary Parish.
(Admission: $10 adults; $8 seniors & students 13-18; $5 children 12 & under, Groups of 20 or more $8 per person; 407 Sterling Road, Franklin, LA 70538; (337) 828-2092)
To gain a well-rounded idea of early life on the bayou, visit the Louisiana State Museum, Patterson (118 Cotten Road, Patterson, LA 70392; 985-399-1268). Both aviation and cypress sawmill industry exhibits are housed here; the museum provides an opportunity to glance into two important aspects of the state's history. The aviation side is especially interesting as you learn that Patterson, LA truly pioneered the aviation industry. (No Admission.)
Scramble to the top of the "Great Wall" to survey the Atchafalaya River and landscape surrounding Morgan City. In its 17th year in the National Main Street program, the city's historic district is ideal for an afternoon stroll with its unique shops and memorable restaurants. Let's wanderlust take over and stroll a few blocks of Main Street to discover century old historic homes and churches gleaming with charm. (Contact the Main Street Office at (985) 385-1770, ext. 112)