04 Apr

9 Reasons to Visit Hocking Hills, Ohio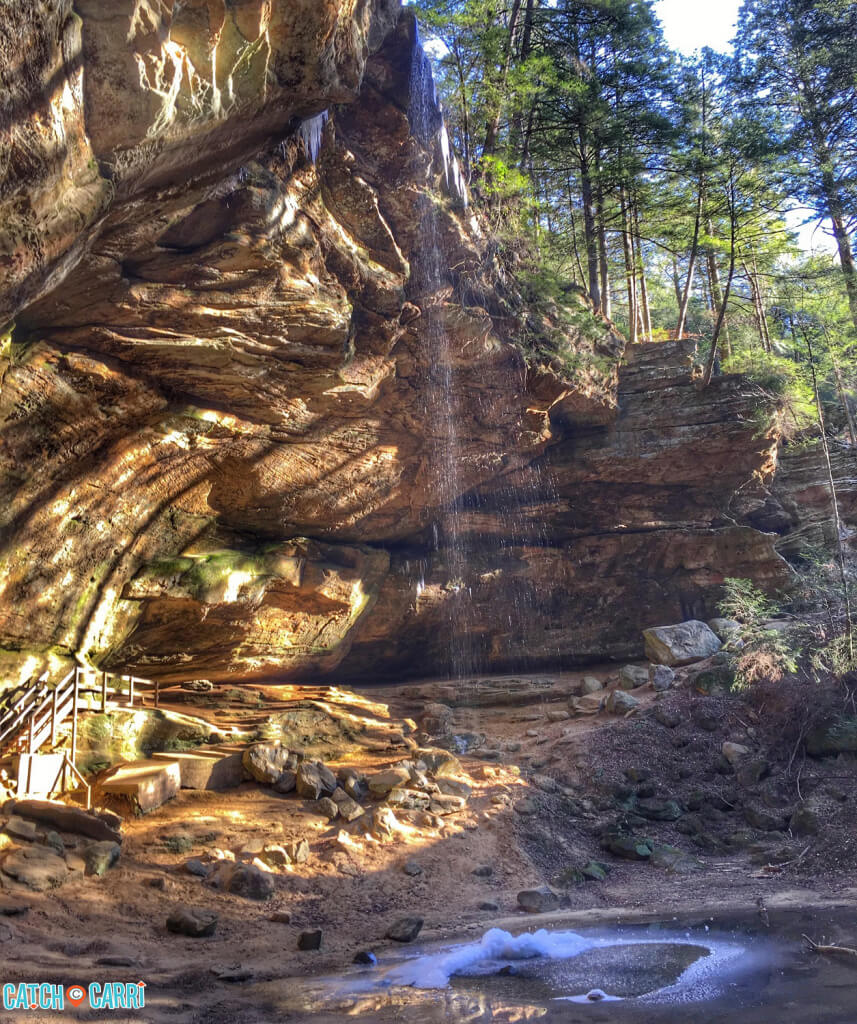 Ohio's Hocking Hills region, an hour southeast of Columbus, is the kind of place where roller-coaster hills wind from one adventure to the next amid spectacular scenery full of waterfalls, some of the state's largest caves and towering blackhand sandstone. Hiking, biking, rock climbing and camping are all game on in the several state parks, none of which charge an entrance fee, and encompass this entire region. When you're not getting lost in the beauty of the outdoors, prohibition era spirits are distilling with spring water in the hills and can be sampled at two moonshine-tasting rooms in town. There are also plenty of other quirky and historic sites that are worth a stop. Here are our 9 reasons to visit Hocking Hills.
1. Sleep in a forest.
For a relaxing sleeping experience try staying in a private cottage or cabin at the Inn and Spa at Cedar Falls inside Hocking Hills State Park. These are well spaced and feature forest views from wide framed windows. There are no TVs in the rooms, although WiFi is available, so guests can decompress if they want. Note that baths are located in the main portion of the room in the cabins, which couples will love but may not be appropriate for families or friends traveling together. Standard rooms inside the main inn are also available and are a more affordable option. Don't skip the spa, where the treatment rooms front the forest. Try the pawpaw facial.  The plant is blended into a scrub with locally sourced oats, honey, and yogurt before it's blended into the skin.  The onsite restaurant, Kindred Spirits, is also noteworthy. It is set up inside double-log cabins from the 1840's. The menu changes with the seasons and meals are made from scratch.
2. Learn to be a Blacksmith
Many once thriving industries are getting lost in this modern world, but Doug Lockhart is doing his part to make sure that art of blacksmithing doesn't fall to the wayside, at least in Hocking Hills. He has worked in the field for more than 30 years and runs a full time commissioned shop with his 21-year-old daughter, Danielle. While filling orders for clients that include Lehman's, Disney World and several custom orders is the moneymaker for the business, he also offers classes through his business, The Southern Ohio School of Blacksmithing. His aim is to teach others the trade at his stable. During the 8- hour class, guests will learn the basics of blacksmithing and make finished projects like an outdoor cook set or a combo of knives to take home. The classes cost $150 and are offered on Saturdays.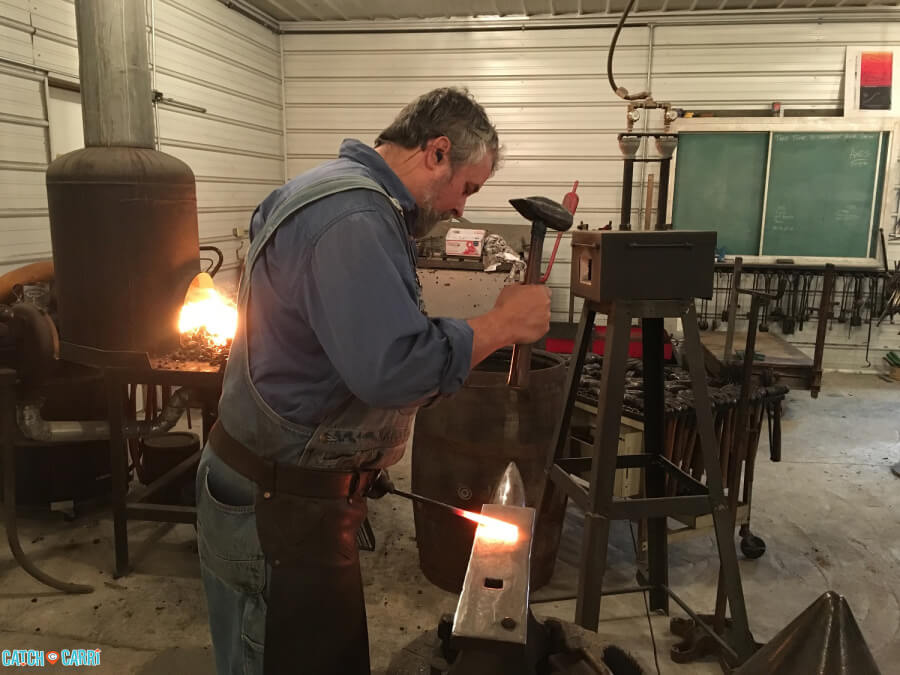 3. Repel down a waterfall
Repelling can be thrilling enough but the experience is even further amplified ten fold when it's done in Hocking Hills State Forest. Besides being filled with dozens and dozens of all kinds of trees (think Hemlocks, Sycamore, PawPaw, Walnut and Willow trees) there are nearly 100 acres of forest land that has been set aside for rock climbing and rappelling.
Hocking Hills Adventure Trek leads a 5.5-hour tour in the Big Springs Rock Climbing and Rappelling area. Guests first rappel down a 25 foot rock, then a 55 foot rock before working up to Big Springs, a 109 foot drop that is the big Monty of them all. Don't forget to look left and right as you descend to see massive icicles on both sides. Time it right, and you may see one crash to the ground- and if you miss it, you will definitely hear it. The coolest thing about this one (of course aside from the insane scenery) is that your feet aren't on the wall at all times. At the halfway mark, your feet can no longer touch the wall, mimicking a helicopter repel.
4. Hike to dramatic caves
Hocking Hills is perfect for exploring nature, and you don't want to miss out on seeing some of the areas best caves.  Old Man's Cave is the most visited in Hocking Hills State Park and with one look, it's easy to see why.  The journey to get there is just part of the fun. You will cross over different bridges, past a swirling pool of water called Devils Bathtub and through a narrow set of stairs carved into the rock before arriving. It's named for the hermit Richard Rowe, who lived in the large recess cave of the gorge more than 200 years ago.
Nearby Ash Cave, is another incredible sight and is the largest recess cave in Ohio. Walk along hemlocks and beech trees before the cave comes into all its glory with an astonishing overhanging ledge and cave shelter. The horseshoe shaped cave is 700 feet from end to end. Water from a small tributary drips from the top ledge, landing into a plunge pool. The cave is named for piles of ashes found by early settlers, that some say came from Indian campfires built up hundreds of years ago.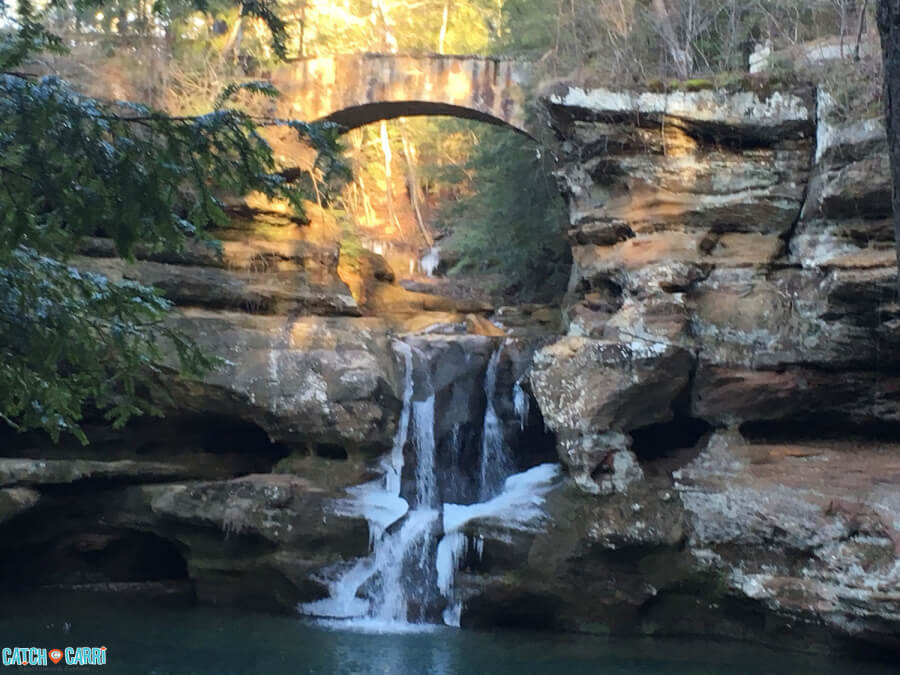 5. Drink moonshine
Moonshine has only been legal in Ohio since 2010 and two distillers in Hocking Hills are making the spirit but with one main difference- the water used in the fermenting process. To make moonshine, the only ingredients you need are corn, yeast, sugar and water. And any distiller will tell you it's the last ingredient that makes the shine different.
At both Hocking Hills Moonshine and Straitsville Special Moonshine, the owners have a private spring only they have access too. At each spot, you can sample moonshine and learn why New Straighsville was a prime Moonshine territory during the height of Prohibition. It was such a big industry that it was the main supplier to Chicago speakeasies where some say people like Al Capone would request it.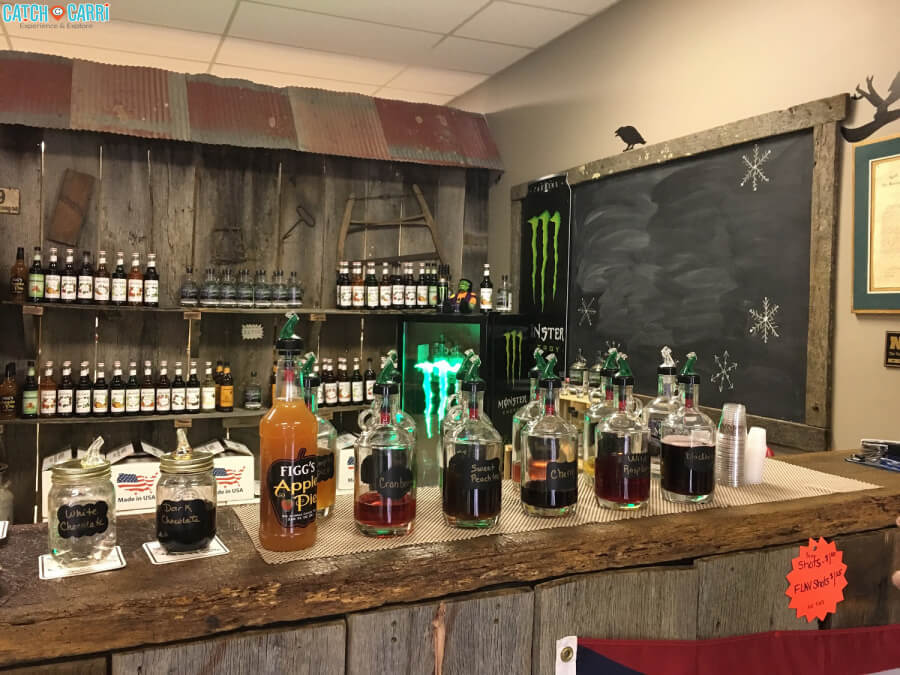 6. Visit the Only Washboard Factory in the Country
Jacqueline Barnett bought the Columbus Washboard Company as a way to preserve history and show visitors how laundry was done the old fashioned way. Since 1974, it has been the only fully operating washboard factory in the US. It doubles as a museum with guided tours offered daily. Machinery like an old school printing press and belt sander used to smooth over edges are display to show guests how washboards were assembled in the 1920s. The equipment has since been upgraded to more modern techniques. During a tour, guests can see a board rapidly assembled in just 45 seconds. Donations are also accepted to send kits to troops, which include a washboard, washtub, clothesline and soap. Tours are $4.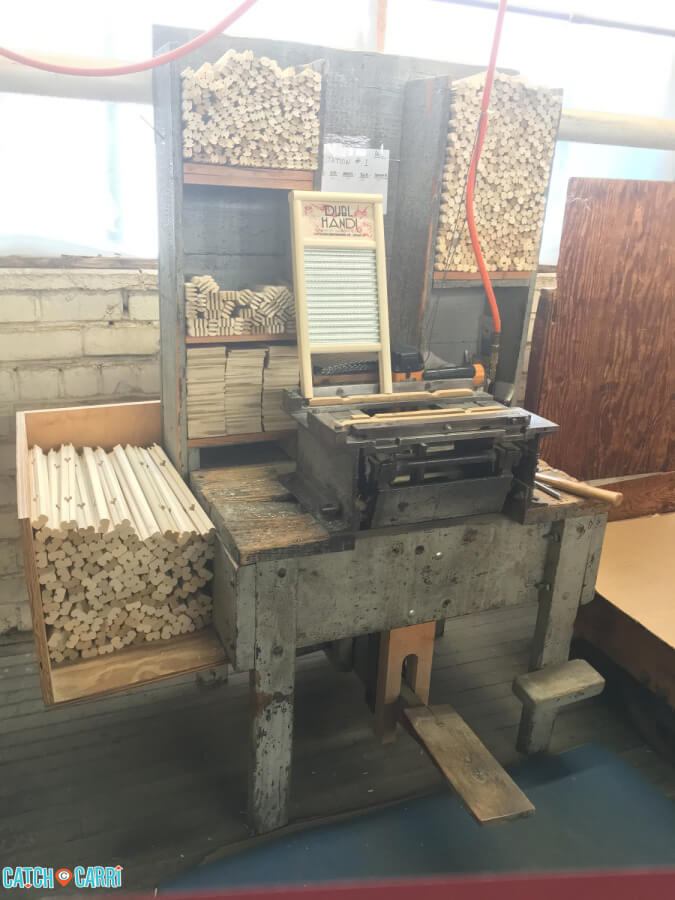 7. See the World's Largest Pencil Sharpener Museum
A region with character most often has a quirky side and Hocking Hills shows this trait with the opening of the World's Only Pencil Sharpener Museum. The Paul A. Johnson Pencil Sharpener Museum, next to the Hocking Hills Visitor Center, showcases nearly 3,000 pencil sharpeners inside a small wooden shed. Find them in shapes like animals, musical instruments, cars, airplanes, phones and several other designs. Rev. Paul Johnson started collecting the pencil sharpeners in 1988 after retirement. People from all the over the world have since sent sharpeners to expand the collection.
8. Drink Local Beer
Owner of Rockmill Brewery, Matt Barbee, started brewing beer at his family's farm after learning the water on the farm has a mineral composition similar to that of Wallonia, Belgium. Of course, it only makes sense for him to brew Belgium style ales like a witbier, a saison, a dubbel, tripel and a cask aged tripel that is aged in  whiskey barrels. The tasting room features 2 fireplaces and several sitting areas in nooks and crannies spread across two floors of the cabin. The brewery is set across 11 acres- making it a perfect spot for a picnic-, which the brewery suggests guests bring to spend a full afternoon, or evening.
9. A Scottish Style Dinner
For a fine dining experience, check out the Glenlaurel, A Scottish Country Inn that serves a 6-course dinner every night of the week, except Saturdays, when it's seven courses. The menu changes every day, depending on what Executive Chef, John Mount and Sous Chef, Tyler Totes can find fresh. Try going on a Friday night for grouper that is flown in that day.  It's dusted with polenta and served over bacon wrapped green beans with lobster risotto citrus on the side. Make sure to leave room for dessert; the flourless chocolate cake topped with a thick heavy homemade whip cream and cherries is heavenly. Before dinner guests are greeted as lads and lasses in true Scottish form, and poetry is read before the meal while Scottish bagpipe music plays.