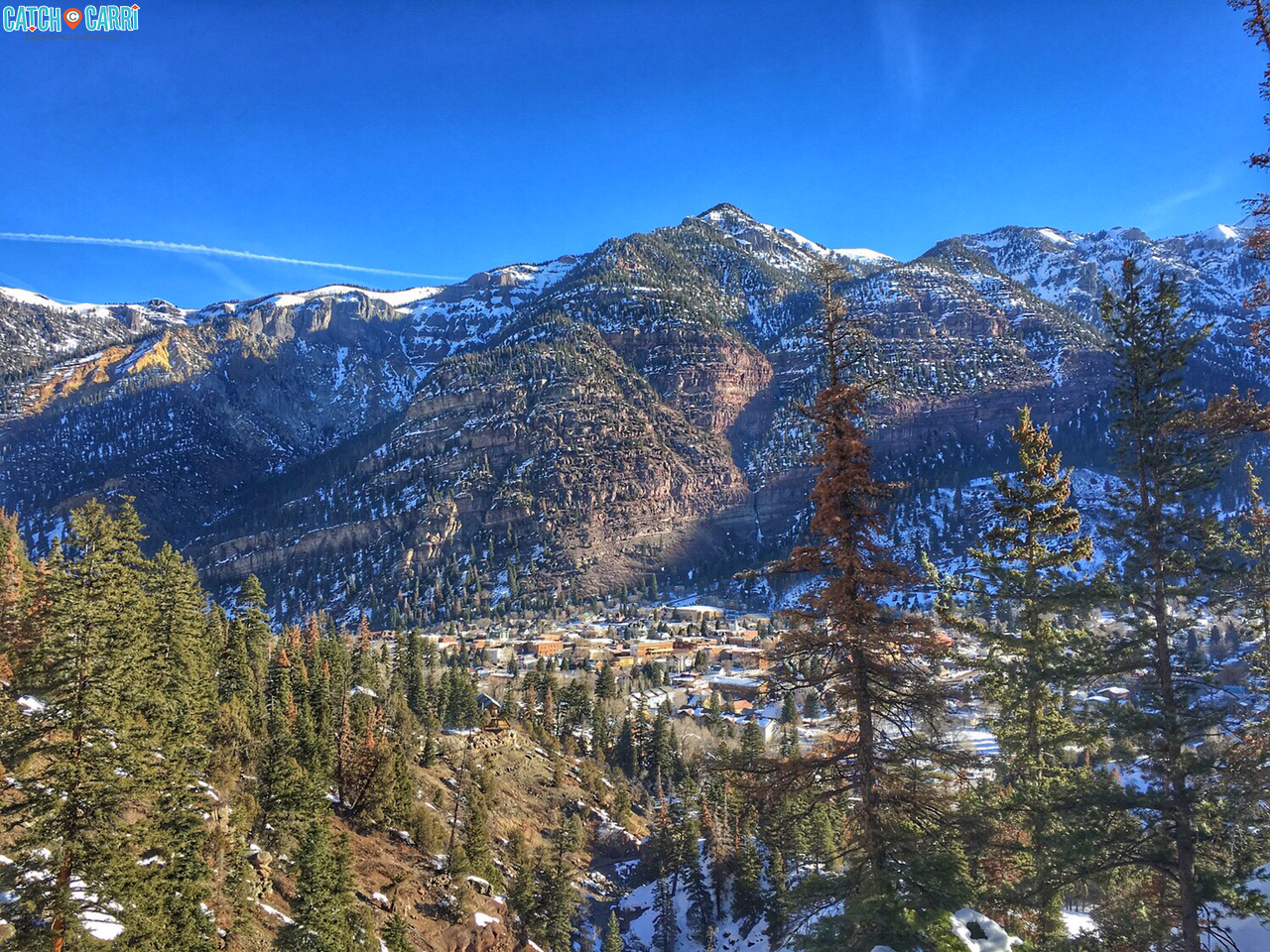 22 Feb

Winter Favorites in Ouray, Colorado

To experience another side of Colorado in winter, skip the skiing and head to Ouray. The quaint little southwestern town is set in a stunning box canyon location surrounded by the towering 13,000 foot San Juan mountain peaks offers both active and relaxing endeavors. The biggest winter draw is ice climbing, for which avid climbers come from across the globe to scale the frozen waterfalls here. But should this not be your sport, there's still plenty to experience, from hiking to hot springs. Here are four of my winter favorites.
1. Ice Climbing
Ouray is home to the world's largest manmade ice park and people come from all over the world to climb here. And while it's free to use, if you're knew to the sport it's best to hire a guide with a reputable company like San Juan Mountain Guides. Here, you will be outfitted with ice-climbing boots, sturdy crampons, and a harness. The park (which is less than 5 minutes from the main street area where San Juan Mountain Guides is located) is man made and stays in check all winter through the work of ice farmers. Shower heads attached to PVC pipeline trickle recycled water off steep cliffs that eventually freeze into climbable routes. The area sits in a canyon surrounded by the jutting 13,000 foot peaks of the San Juan Mountains.
There are plenty of routes that suit both beginner and expert climbers. Before climbing, guides will run through the basics of how to use crampons and ice axes to climb efficiently. In beginner areas you will find lots of pockets perfect for hand and foot holds. But on some of the tougher routes, climbers must be much more skilled to work themselves up nearly solid slabs of ice.
Climbers with no experience will be glad to know they can make it to the top of a route. It may take conquering some fear and time to gain confidence but with the right instructor you will be rappelling down before you know it.
2. Cross Country Ski at Ironton Nordic Park Trails.
I am used to the thrill of downhill skiing, which means that if I am going to cross country ski, there needs to be a big draw. And the Ironton Nordic Park offers that with the Trail Side Loop (2 miles round trip) that winds by an abandoned mining village that shut down after the silver crash in 1893. More than 300 people once lived here but only handfuls of homes remain- most either burned down or were demolished for the use of lumber.
Here, my skiing pal and I popped of our skis and followed a path winding by the shackled wooden homes, some of which have four feet of snow piled on top. More advanced skiers can take off on some of the backcountry trails like Silver Belle (.9 miles) which will take you to the old mine site. My favorite backcountry trail was the North Pipeline (.3 miles), which is a steep climb up but makes for one fun and fast ride down! A non-profit, the Ouray County Nordic Council, maintains the trails, which are free to use.
Getting there: The Trail is 9 miles South or Ouray alongside the Million Dollar Highway-, which is a spectacular drive in itself to the top of Red Mountain Pass. Along the way, we spot mountain goats, sheer rock faces with frozen icicles stuck to the side and steep drop offs that will make you grip the steering wheel extra tight.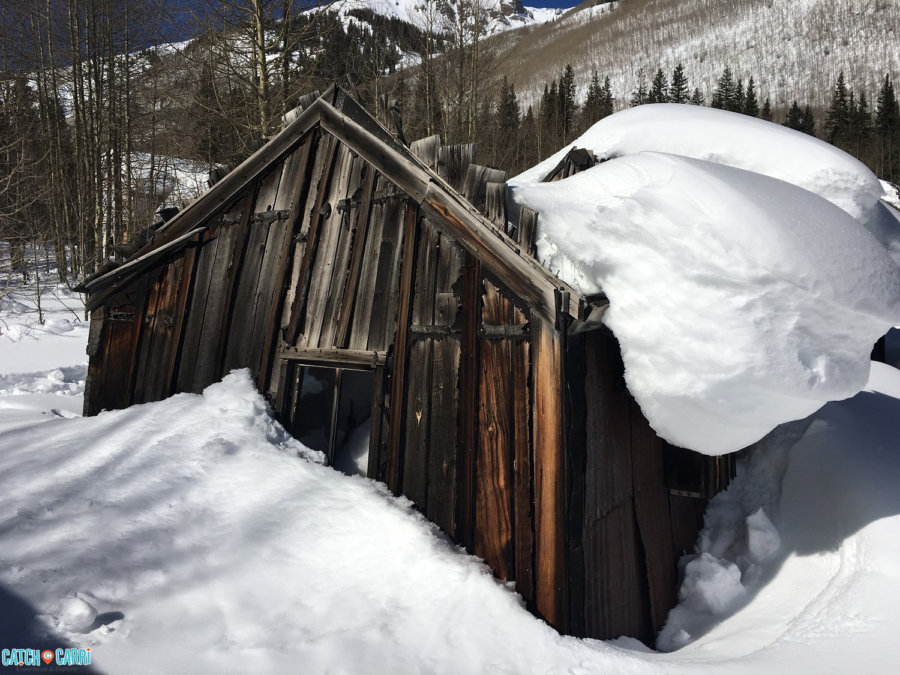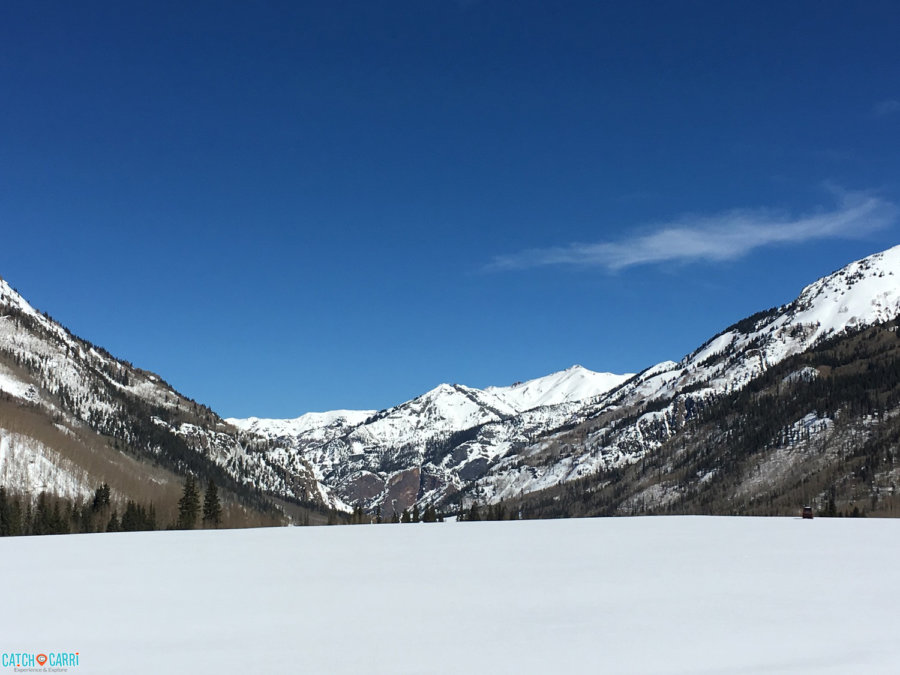 3. Hike to Box Canyon Falls & Cascade Falls
Ouray is a one of the state's best spots for waterfall sightings and two town favorites are Box Canon Waterfall and Park and Cascade Falls. Both are easily accessible from town. At Box Canon, there are two trail options. The shortest is the High Falls Trail, which is a quick hike (less than a quarter of a mile) to reach the canyon. From here, you will be able to see the powerful force of water spilling down a 285-foot waterfall before landing into a creek that continues into the valley. Or, take the High Bridge Trail, which climbs 200 feet over the course of a quarter of a mile to the top of the falls. From here, you will run into a cave that links up to the Ouray Perimeter Trail. This circles around the entire town on an elevated mountain trail and eventually connects to the Cascade Falls. If you aren't in for a longer hike, you can drive to the trailhead and be at the base of the falls after a 5-minute hike.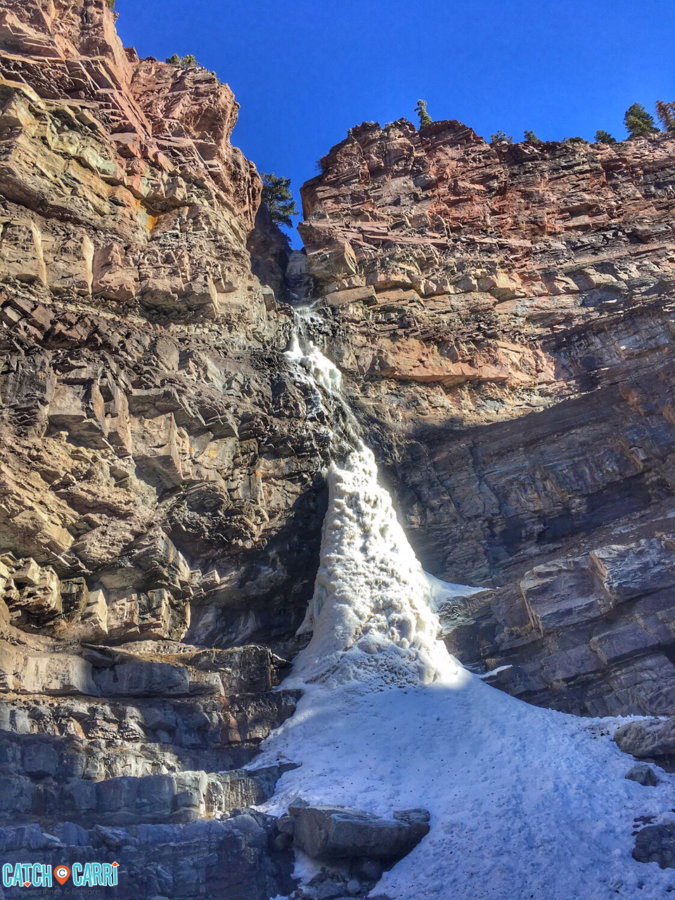 4. Hot Springs
Ouray is a hot bed for natural hot springs with several options in town, all of which are sulpher free, which means no funky odors. The Ouray Hot Springs Springs Pool opened in 1927 and is still one of the most visited in town. There are different soaking sections all framed by the San Juan Mountains that range in temperature from 80 to 106 degrees. There is also a lap swimming section if you are looking to mix more fitness into the trip. Another option is the Orvis Hot Springs about 9 miles North outside of town towards Ridgway. Here, there are 8 different soaking areas that have more of a spa feel with tubs that feature flagstone landscaping. For piping hot temps of 114 degrees check out the lobster pot. Other areas include the island waterfall tub and the Pond, which are the areas largest. There are also two private tubs inside if you want to escape crowds all together. Be warned if you go though because Orvis is clothing optional.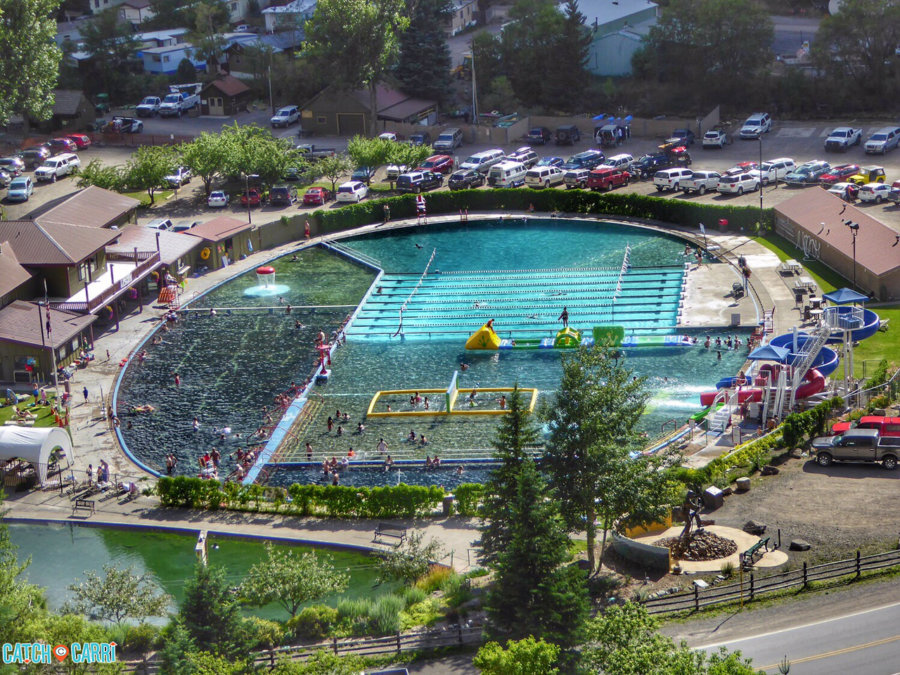 Where To Eat & Drink
This Main Street spot serves a full breakfast menu including breakfast burritos, waffles and pancakes. My top pick is the San Juan Mountain Sandwich made with scrambled eggs, bacon and cheese on toast. Here, cinnamon rolls are made in house too. We decided to take on to go but the fluffy frosted dough didn't stand a chance against my sweet tooth- we ate it before we walked out the door.
Lunch: Backstreet Bistro
This is a great spot to grab a sandwich to go that can be enjoyed midway through the day's adventure- whether it is cross-country skiing, hiking or ice climbing. If you head in to grab food to go, this spot serves a full breakfast menu too with the option of adding a pancake onto any order for 2 bucks. I give thumbs up to the blueberry, which is made, on the spot with fresh fruit for juicy bites. For an afternoon pick me up, try the snicker doodle coffee, which has cinnamon and hazelenut flavors.
Chances are you are working up an appetite in Ouray so make sure to treat yourself and Mouse's has it all—ice cream sundaes, truffles, shakes and pastries. But it's the scrap cookies that I kept coming back for, which are made with scraps leftover from the onsite chocolate shop. You may find pieces of truffles, toffee, caramel or nuts packed inside the sweet treat.
Dinner:
John Wayne hung his hat on the back of The Outlaw Restaurant when he was filming the movie True Grit in the area.
On the menu you will find seafood, steak, pasta and seafood like the San Juan Trout. The restaurant has a true saloon feel to it with wagon wheel chandeliers, wooden interior and black and white historic photos throughout. Wooden shingles decorated by guests who have completed the bars drinking challenge (4 bartenders choice shots in a row) hang on the walls.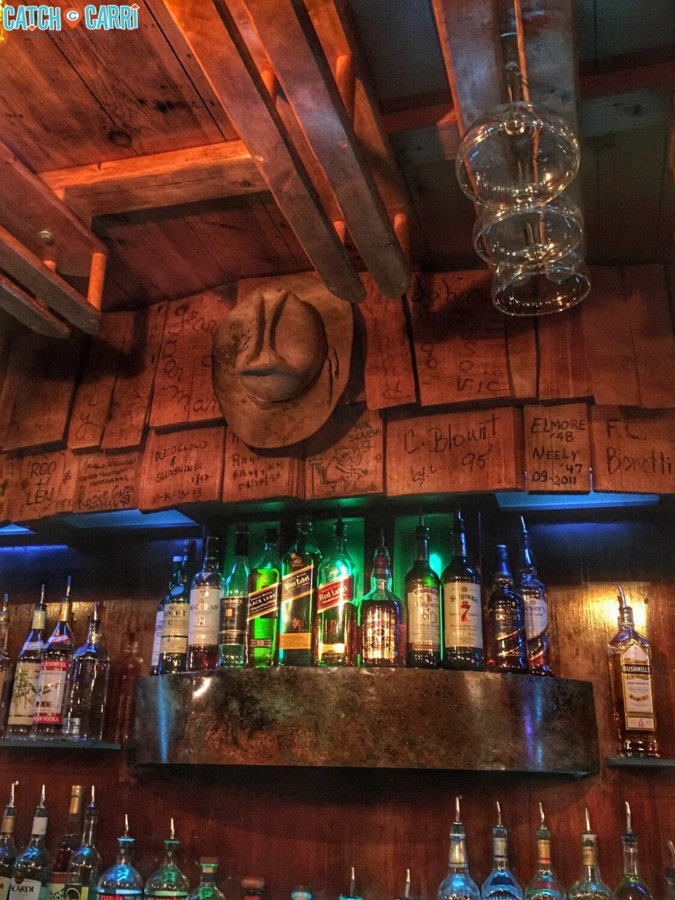 Where to Stay: Box Canyon Lodge & Hot Springs or Ouray Chalet Inn
The best part about the Box Canyon Lodge and Hot Springs, which is just a few block from main street, is the soaking tubs filled with mineral water from a piping hot source just 20 feet away. Before the water hits the tubs, it's cooled down to temperatures varying from 100 to 106 degrees. All tubs may not be accessible in winter but guests will be able to choose from at least six on three different levels. Room rates starts at $95.
For a more adorable option that covers all the bases, check out the family owned Ouray Chalet Inn, which sports a European feel on the outside. Room rates start at $60.