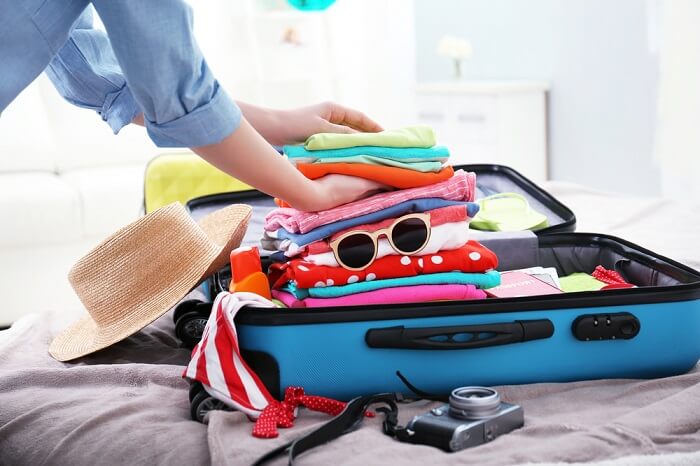 10 Nov

The Best of Eagle Creek's Specter Line

Whether you're packing for multiple seasons, months on the road or a mix of business and pleasure you want to keep separate, travel luggage and accessories outfitter Eagle Creek has you covered with their Pack-It Specter line. This series of ultra-light translucent packing organizers help you compress the contents of your travel back and keep your clothes neat, easy to find and clean. We've been traveling with this company's products for years, and love how they've evolved over time. Here are four favorite highlights from the line. Oh and let's not forget, Eagle Creek guarantees its products for life.
Pack It Specter Cinch Organizer
With six internal pockets, we love The Cinch Organizer for keeping toiletries, jewelry and undergarments separated and protected throughout our travels. Convenient to organize, ultra-light and best of all, super easy to clean should anything spill in-flight, The Cinch Organizer also features a draw-string closure with pull tabs for easy open, padded bottom for structure and silnylon ripstop to protect from wear and tear. The bag is also TPU lined for easy cleaning and moisture protection and the material is water repellent.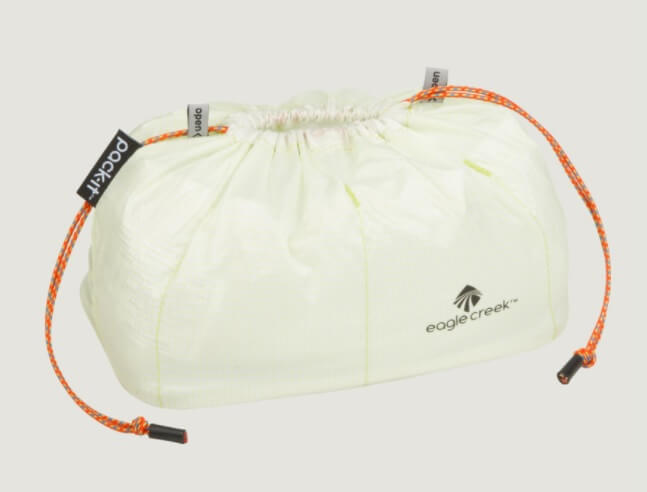 Pack-It Specter Tech Starter Set
While you can purchase bags separately, we love the Pack-It Specter Tech Starter Set if you're looking to revolutionize clothes packing. The set comes with a small cube, medium cube and structured cube. The small and medium sized cubes are designed to store rolled or folded clothing like t-shirts, leggings and shorts, while the structured cube is meant for neatly packing delicate items and nicer outfits like dresses or suit shirts. The fabric in the cubes is strong and light, keeping your gear clean and organized without adding much extra weight to your pack. The translucent fabric lets you see into the bags easily, and the two-way self-repairing zippers with climbing rope pulls create easy access to what is inside without having to worry about a zipper snagging. The cubes also have webbed carry handles and are made from water repellent and stain resistant material — so if something spills in your suitcase they'll stay protected.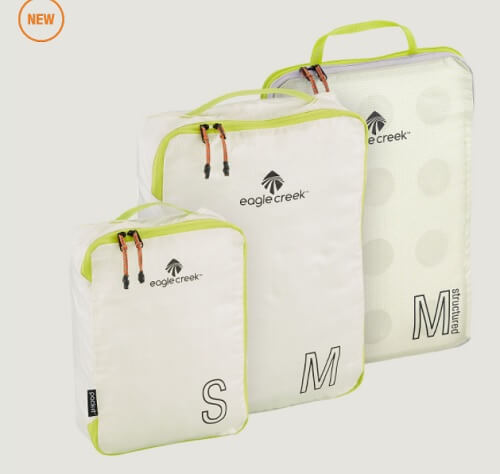 Pack-It Specter Quick Trip
Keeping toiletries organized is a breeze with the Pack-It Specter Quick Trip, which is a small, duffel-style bag. It's not a super large toiletries bag, but instead is designed to fit just the necessaries (and keep you from overpacking) in a light weight, duffel-style bag that works great for a weekend getaway. The two zippered pockets gives you space to separate products and the quick-grab handle makes it easy to find in a bag or carry.
Pack-It Specter Compression Cubes
Finally, the Pack-It Spector Compression Cubes are perfect for compressing your clothes in your travel bag, which allows you to bring more along for the trip. Like the other products in the line, these cubes are ultra-light and by packing different styles of clothing in different cubes, you'll have easy access to outfits should you need to make a quick wardrobe change. Plus the compression zipper really adds space savings, and we liked the easy to grab handle.