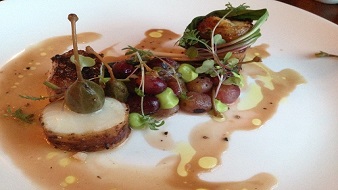 20 Jul

Bittersweet Restaurant

Away from the hustle and bustle of downtown Denver, find Bittersweet Artisanal Cuisine in the Washington Park Neighborhood. What was once a former 1950s gas station is now a high-end restaurant serving up thoughtful and innovate dishes like pork belly with strawberry puree and pickled Fresno peppers. Organic produce from two on-site gardens (600-square-feet total) provides many of the fresh ingredients inside the chef driven and chef owned restaurant.

The love child of Olav Peterson and Melissa Severson, Bittersweet is the culmination of the couple's hard work and the hope for a bright future. Much of what foodies spoon into their mouths has been created in house (or grown in the garden). The breads, pastas, cured meats, and handmade desserts featured on the menu are all made in house, under the eyes of Peterson and pastry chef Kris Padalino.

Those with an affinity for goat cheese will not be disappointed by the appetizer that includes fig puree, blood orange, red cabbage, prosciutto, and puff pastry ($11). Or take to the sea and begin dinner with smoked mussels (polenta frites, sausage, garlic broth, parsley, $9) When it comes to dinner, try the duroc pork rib-eye (English peas, bacon, truffled pea purée, fried spring onions, natural jùs, $28) or the scallops (smoked rock shrimp & pasilla risotto, sweet corn sauce, $32). Dessert here is tempting with house-made sorbets and ice cream. For the full Monty the Chocolate (gianduja ganache, caramelized bananas, marshmallow fluff, $10) will fill even those with the heartiest appetites right up.