19 Aug

Our Top Picks: Camping Essentials & More

Camping is a surefire way to make special memories. It's a favorite American past time, and fortunately for us, the camping gear currently on store shelves reflects the latest trends and technology. The same can be said for mountain biking which is now a serious thing for women. This relatively new sport—invented in the 1970s—requires trails making it the perfect excuse to go camping. So pack your tent, your helmet and anything else you want from the list below and head into the woods. Adventure awaits!
Camping
Weighing as much as two cans of soup, this two-person tent is a smart investment for the ultralight camper. What the Ghost UL 2 lacks in weight, it makes up for in features. In addition to the 27 square feet of floor space, interior mesh pockets make storage simple. Thanks to its welded corners, guy clip anchors and meticulously taped seams, there is no need to panic during a downpour in this waterproof tent. Even your gear will stay dry in the seven-square-foot entry vestibule. The full size door makes entering and exiting as easy as possible. When it's time to tear down, or set up, camp, 5 minutes is all you need for this one-pole wonder.
Why We Love It:
It's so light! For trips where you have to pack it in and pack it out, every ounce should be worth its weight. In the class of ultralight tents, the 2.5 lb Ghost is remarkably durable and can hold its own against any other double-walled tent on the market.
Price: $449.00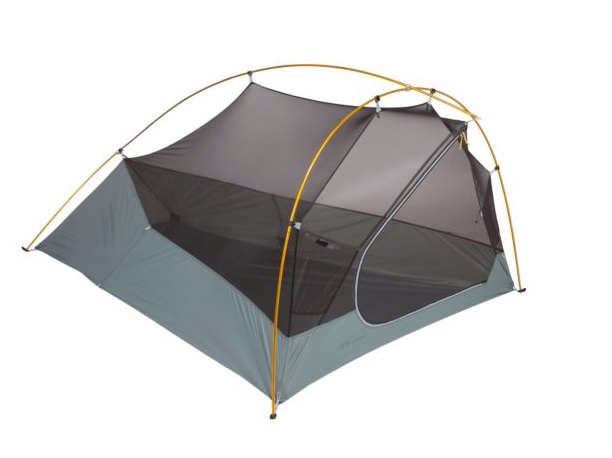 Go where no cooler has gone before. With the Igloo Trailmate, it's finally possible to pack all of your favorite cold drinks on those off-the-beaten path adventures. The Trailmate's all-terrain oversized wheels allow 10 inches of ground clearance and are designed to easily glide over grass, sand, rocks, sticks and other debris. Auxiliary features include two handy built-in bottle openers, butler tray serving station, dry storage box for expensive electronics (did we mention there is a media docking slot?) and exterior stash pockets for things like car keys, flashlights and matches. Worried about how much this backcountry cooler can pack? Picture 70 quarts worth of ice or the equivalent of 112 beers.
Why We Love It?
It's all about the insulation. Thanks to an exceptionally engineered body and lid, the Igloo delivers up to four days of ice retention. Plus, hauling has never been handier. From the all-terrain wheel system to the ergonomic, easy-to pull, handle, this cooler can practically go anywhere your feet can.
Price: $299.99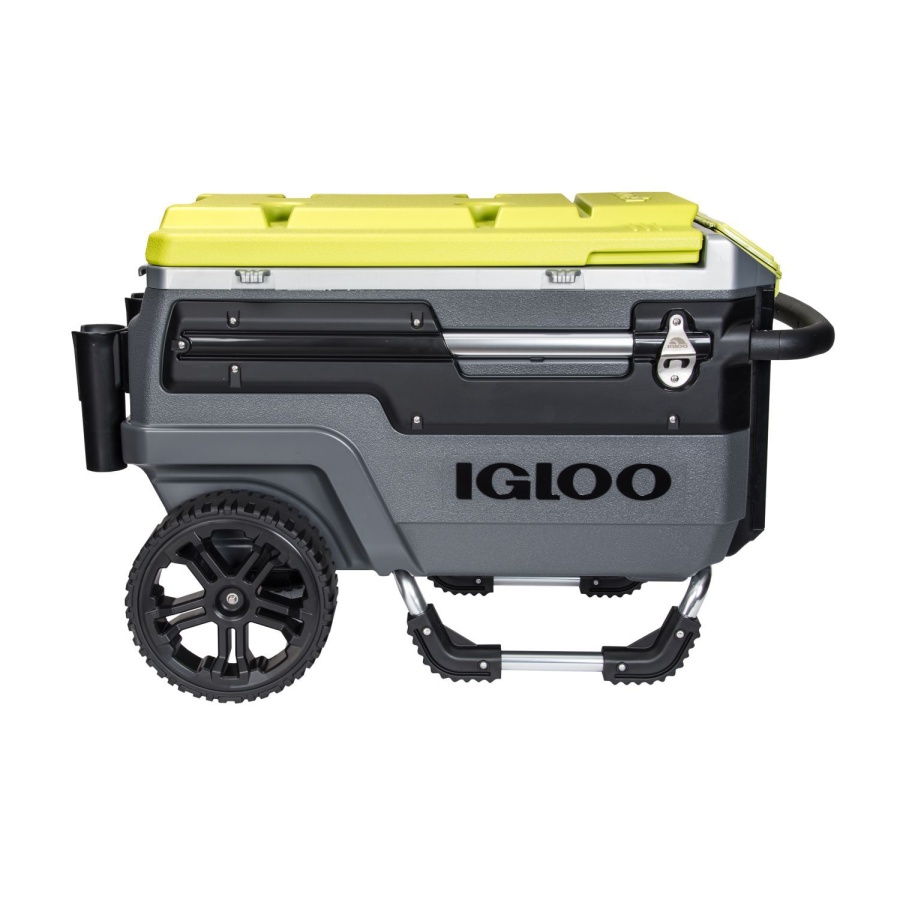 Say adios to smoke and gas with this innovative wood-burning stove. Powered by a USB-rechargeable airflow system, the BioLite CookStove can burn for up to 30 hours. Flame size and cooking temperatures are adjustable via four different fan speeds. It's lightweight, 1.6 lbs, so you have plenty of room to pack firewood. You also have peace of mind and more money in your pocket because you're being eco and eliminating the need for pricey fossil fuels.
Why We Love It:
Whether you're boiling water for hot chocolate or toasting marshmallows for s'mores, this CookStove runs on renewable energy so there's no added guilt. Smoke-free means you can enjoy the campfire feeling, not feel bathed in the campfire smell.
Price: $99.99
Form begets function in this must-have hand tool. Even though it folds up to be a mere 4.5 inches long, it boasts 19 different tools. You never know what you'll need out in the woods. So, more is more in this case. There are multiple pliers, box wrenches, wire cutters and of course, a serious stainless steel blade for jobs that require a clean cut. Safety whistle? Check. Can and bottle openers? Double check. The tool comes with a nylon sheath and a 25-year warranty. We don't advise using it to carve your initials into a tree, but for $6.99 it's well worth adding on the additional engraving. You'll have this knife for life so you may as well put your name on it!
Why We Love It: It has a hammer and a saw. Think of the most oft used tools and hammers and saws are definitely high up there on the list. Albeit small, both features are better than nothing and provide a huge plus: peace of mind.
Price: $99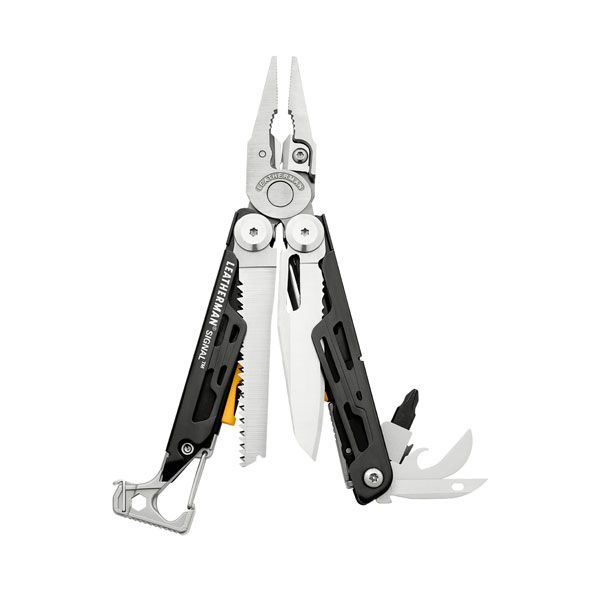 Camping and cocktails don't exactly go hand in hand. Until now. Thanks to Claret's ingenious invention, now you can relax with a refreshing glass of Riesling or even start your morning off with a mimosa—at your campsite! This insulated wine glass is constructed of stainless steel and prevents sweating so your drink stays cold all day long. The lifetime warranty is a nice touch, although since this isn't a glass glass, you probably won't need to utilize it. With 13 ounces of capacity, you can pour yourself a generous drink. You're camping. You deserve to indulge!
Why We Love It: The shape is, for lack of a better word, sexy. It's not the red SOLO cup from your college days. It's a svelte, subtle pear shape mimicking a wine class and allowing for optimal outdoor sophistication.
Price: $19.99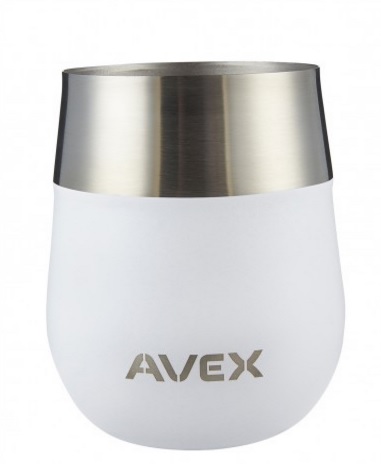 High performance adventures like camping call for high performance hydration. This reusable water bottle is a good investment for anyone who is serious about liquid intake. It's leakproof, and best of all? It can survive falls without shattering. There are four colors and three sizes (17 oz, 25 oz. and 34 oz.) to choose from. What distinguishes this bottle from the rest is its "high-flow-rate" drinking lid. Simply press the button when you want a sip, and when you're done, rest assured there will be no dripping or spillage.
Why We Love It:
You have a dishwasher; don't be afraid to use it. This bottle is dishwasher safe and the bottle comes apart easily. The lid pivots open so you can make sure you're getting a thorough cleaning instead of a subpar rinse.
Price: $16.99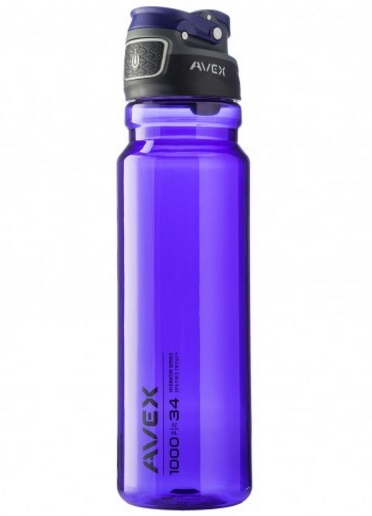 Kill two birds with one stone with the Scout Camp Lantern. Not only does it illuminate your campsite, it also repels biting insects. It runs on four AA batteries and lasts for up to 10 hours—even on the highest of its four settings. The 220-lumen lights make it easy to play cards by the campfire or make a midnight run to the bathroom. If you think the bright light will attract bugs, think again. This lantern is manufactured by a company known for mimicking the natural insect repellant found in chrysanthemums.
Why We Love It: From buzz to bite, mosquitoes are every camper's arch nemesis. This lantern's butane cartridge and Max Life repeller mat promises a 225-square-foot zone of pest protection. It's odorless, invisible and mess-free.
Price: $39.99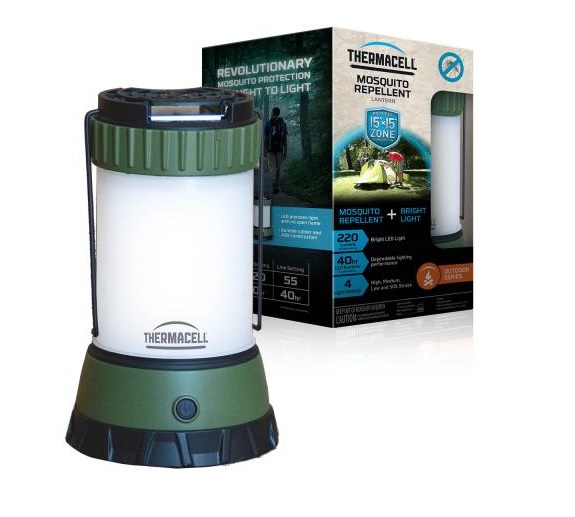 As a bottle, it's worth its weight in stainless steel, medical grade, mind you. The flip top lid lends itself to effortless, leak free, transitioning from sip to swallow. This bottle doesn't discriminate when it comes to drinks. Its vacuum insulation technology keeps cold drinks cool for more than 24 hours and hot drinks hot for as long as 12 hours. There's a reason they call this bottle the "King of Insulation."
Why We Love It: There is a charitable component. Proceeds from each bottle sold go toward helping fund a non-profit in developing nations via the company's Product to Project initiative.
Price: $54.95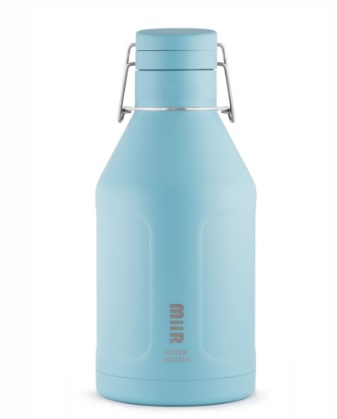 Mountain Biking  
Spend less time loading and unloading your bike and more time riding with the Yakima HoldUp. The biggest investment of time involved is the 25-minute installation to your car. After that, it's a matter of seconds to secure and remove your bike. This two-bike carrier fits bikes of most shapes and sizes including those with through axels and disc brakes. It can carry up to 120 lbs and since bikes are strapped on at the wheels and there is side-to-side adjustability, there's no need to worry about scratching your paint job or precious carbon frame. Built-in locks are a novelty most racks don't feature, so that's a bonus feature too.
Why We Love It: The HoldUp is a fold up! For maximum convenience, it features handy pivot arms. When you're not toting your bikes, simply collapse the components down and insert the spring pin to secure them to your hitch. Instead of having a huge contraption protruding from the back of your vehicle, you'll have a sleek storage device.
Price:  $449
A quality bike deserves a quality lock. That's why we recommend safeguarding your precious wheels with the Folding Lock Bordo GRANIT X Plus 6500 from Abus. Constructed from hardened steel, this lock is practically saw-proof so bike thieves will have to work really hard if they hope to even make a dent in the 5.5-mm-thick bars. As compact as it is sturdy, this lock consisting of foldable links is easy to carry. Non-slip Velcro secures it to your frame so you can ride unencumbered until you need to stop and lock up.
Why We Love It: No need to remember a combination. The lock—boasting an ABUS X Plus cylinder to make it practically unpickable—comes with two keys including one equipped with an LED light for those late rides.
Price: – $180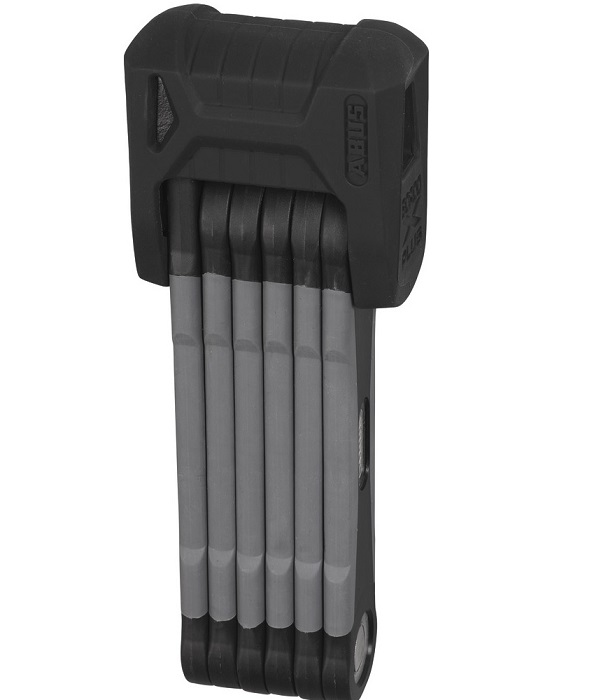 Montaro MIPS Mountain Biking Helmets 
MIPS stands for "Multi-Directional Impact Protection System." In other words, with this helmet, your most complex organ is safe. Well, as safe as it can be when you're racing down the side of a mountain or tackling a technical jump. Safety doesn't mean riders have to sacrifice style. The women's Montara comes in a beautiful matte turquoise, white geo and black galaxy. For men, there are eight pretty rad colors including some neons. It's gross, but sweat is inevitable and the Montaro's designers were smart about incorporating sufficient ventilation and plenty of anti-microbial pads so you can enjoy a cool, clean ride.
Why We Love It: This brain bucket is goggle-friendly for those really gnarly rides. The visor easily lifts up so you can attach your eye protection and its strap grippers secure them to your helmet. The camera mount feature also comes in handy for those rides you want to record.
Price: $150
Riding in the dark has never looked this good. The Ledlenser SEO 7R has a technical name, but all you really need to think is "rechargeable smart headlamp." The rechargeable part is courtesy of a battery pack that provides up to 20 hours of light. Accessories include a handy car charger so you can charge as you drive to the trailhead. The smart part refers to the sensitive dimming function. The innovative sensor automatically adjusts light output based on reflected light so you don't need to worry about making manual adjustments. Instead, you can focus on your ride.
Why We Love It:
The numbers make this a good value. Each beam promises 220 lumens of light lasting up to 20 hours (a minimum charge is 5 hours) and reaching up to 426 feet.
Price: Check your local retailer.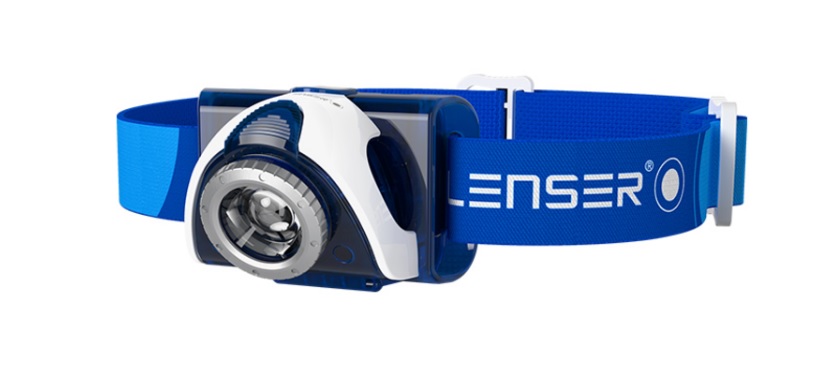 Some of the most memorable rides are in low light conditions, dusk, dawn, full moons, etc. But to be on the safe side, rely on the Light + Motion Urban Trail 850 FC. Promising to be the "most powerful single-LED light that exists," this light delivers up to 850 lumens or the equivalent of a 60W bulb. Four different lighting modes include pulse, low, medium and high. In addition to its custom reflector, the light deserves praise for its compact design. It mounts easily to your handlebars, helmet and even GoPro without getting in the way. Even the micro USB charging cable is minimalistic. It takes 2.5 hours to charge the light which is good for up to 6 hours depending on lighting modes used.
Why We Love It: Mountain biking can be messy, especially wet. This light is waterproof. No joke. During product testing it was submerged in 3 feet of water for half an hour and still worked perfectly.
Price: $150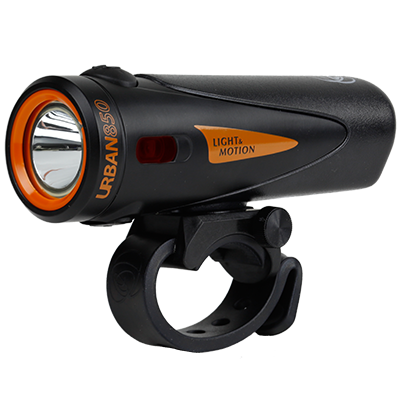 Surprisingly, staying hydrated is one of the most difficult challenges mountain bikers face. It's not easy to find a comfortable way of carrying water, especially if you're going for a minimalistic look. That's why the Verve 9 from Osprey is such a great solution. The ultralight design approach to every feature means there is no excess weight anywhere—from the hipbelt to the shoulder harness, ventilated mesh backpanel and even the LidLock system which locks the bag to your helmet so if you get off your bike to take a break, you don't need to worry about loose gear. Stash your car keys in the zippered Front Shove-It pocket and your energy gels in the stretchy harness or side pockets.
Why We Love It: Let's face it. We want to look good. A 2.5 liter reservoir has never looked this good. Coming in three colors—scarlet red, raven black and azure blue—it's easy to find a hue that will compliment your bike frame. Or the color of your eyes.
Price: $100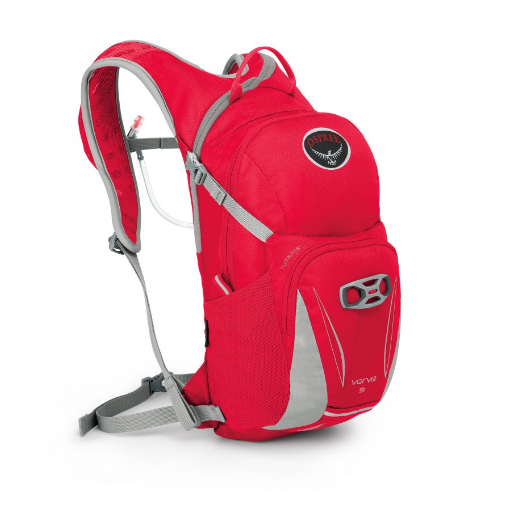 Local Cooler Saddlebag Pannier
Finally there is a reliable cooler for commuter bikers. In fact, it's so great mountain bikers could be tempted to install a rack and pack refreshing snacks on the single track. This insulated pannier from Blackburn opens doors to endless possible scenarios involving cycling and snacks. Store fuel that needs to be refrigerated without worrying about lukewarm drinks or even melting popsicles. The waterproof welded stuff bag keeps things dry in case of a surprise shower and the interior mesh pockets make it easy to pack smaller things without worrying about having to dig around for them. The lifetime warranty makes the price tag easier to justify.
Why We Love It. Not only is this pannier designed to easily fit on most bike racks on the market, but it's also Interlock™ Compatible. In other words, it's hard to steal. As long as the pannier is used with a Blackburn rack, all you need is a single key to lock it to your bike and leave it for a few minutes without returning to an empty rack.
Price: $79.99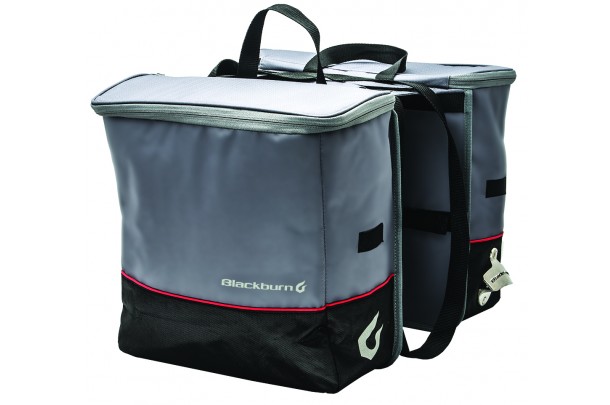 Clothing
For Women:
Looking stylish in the saddle doesn't have to be painful. These lifestyle pants hit just below the knees and feature chamois padding so you can cycle sore-free.  The wide waistband is flattering, and the four-way stretch fabric wicks away moisture. We like to stash a few dollars in the invisible zip back pocket for a mid-ride ice cream run or an apple from the farmer's market. Perfect for the park, spin class and every riding surface in between.
Why We Love Them: The compliment factor of these knickers is off the charts. Thanks to the unique diagonal print, these pants attract the right kind of attention. Coming in a black and white mix, they're easy enough to coordinate with colorful tops too.
Price: $95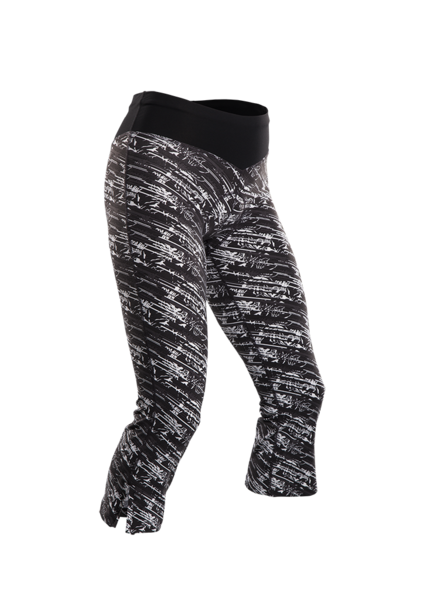 Don't be fooled by the ruched v-neck. While this shirt is definitely classy enough to wear on a casual date, we also love to sweat in it. The mélange, moisture-wicking fabric is super soft, breathable and stretchy. A back pocket makes storing small essentials like chapstick or jewelry a cinch. Also, is it just us, or do the capped-sleeves make our shoulders look more sculpted?
Why We Love It: It's cliché, but look good, feel good. The feminine fit of this jersey has a psychological effect and adds a sexy dimension to the otherwise strenuous sport of cycling.
Price: $75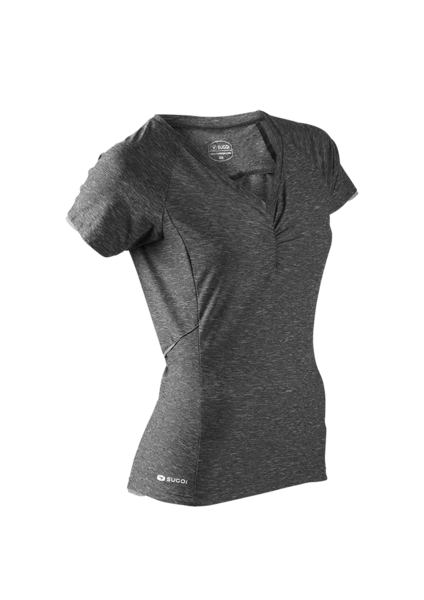 A layer that lasts a lifetime, the popular R1 Hoody from Patagonia is a wise wardrobe investment. When we start to feel cool, we slide on the balaclava fleece hood. When we start to get warm, we slide the front zipper down or roll up the sleeves—complete with thumbholes. The zippered chest pocket is perfect for stashing smaller essentials, and the slim, extra long silhouette means we can climb and bend over with coverage. You'll want one in every color too. From Howling Turquoise to Epic Blue and Sulphur Yellow, you'll definitely be easy to find in a crowd. Of course this classic also comes in classic black.
Why We Love It: One word: Polygiene. Even the most beautiful people have body odor. This hoody is treated in Polygeine which is safe on your skin but bad news for any odor-causing bacteria.
Price: $159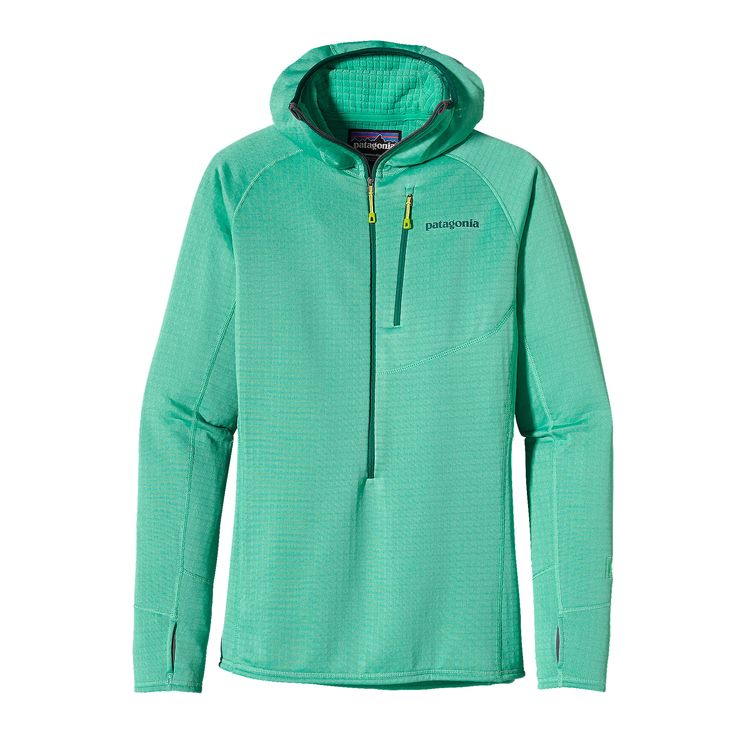 On rainy days, our feet feel invincible in these shin-high boots that shout, "Bring it on!" In addition to being 100% waterproof, they're insulated with an XpressCool lining. In other words, toes are kept warm, or cool, in outdoor temperatures ranging from 40-95 degrees F. We appreciate how easy they are to slip in and out off. Our heels, and soles, appreciate the comfort of the flexible, rubber-like feel.
Why We Love Them: These aren't your mother's muck boots. Coming in four distinct styles including Black Bandana, Black Floral, Black Lilac and classic Black, these boots are as fun as adult shoes come.
Price: $119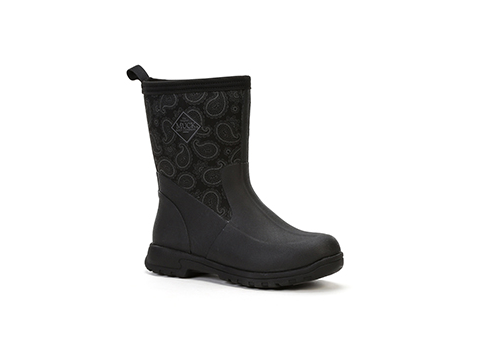 For Men
This work coat works as hard as we do.  From a distance, it looks straightforward (tough) and simple (think, sleek). But up close, it's easy to identify the features making it worthwhile. For starters, there are plenty of pockets including two with special closures so you can keep valuables safe. The lined collar and adjustable customizable Velcro cuffs help keep drafts out. But perhaps the standout feature of this coat is the incorporation of Kevlar. This synthetic fiber repels water so staying dry is as easy as staying warm.
Why We Love It: This coat combines durability with utility. From the two-way zipper to the four, multifunctional front pockets, this jacket is designed for efficiency. It's also rugged enough to ensure productivity sans rips and tears.
Price: $131.99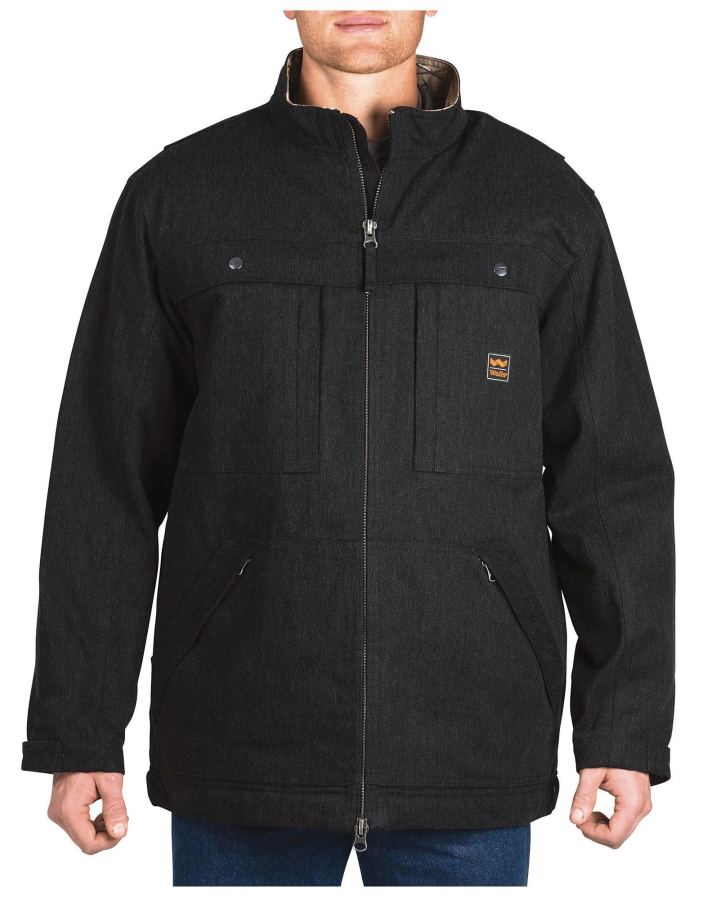 Washed Pecan. Even the color of this outdoor wardrobe staple sounds woodsy. Made of 10 oz 100% cotton sanded duck, this vest's stonewashed finish creates a vintage look without relying on mothballs and dust. It keeps your core warm and your arms free for mobility. Pockets feature reinforced stitching and security closures so you can rest assured your coins, keys and phone won't fall out while you're swinging that axe or bending over to crab a cold one out of the cooler.
Why We Love It: Pop the collar because the buffalo printed plaid flannel lining is our favorite feature of this piece. It's a subtle nod to lumberjacks without screaming hipster.
Price: $71.99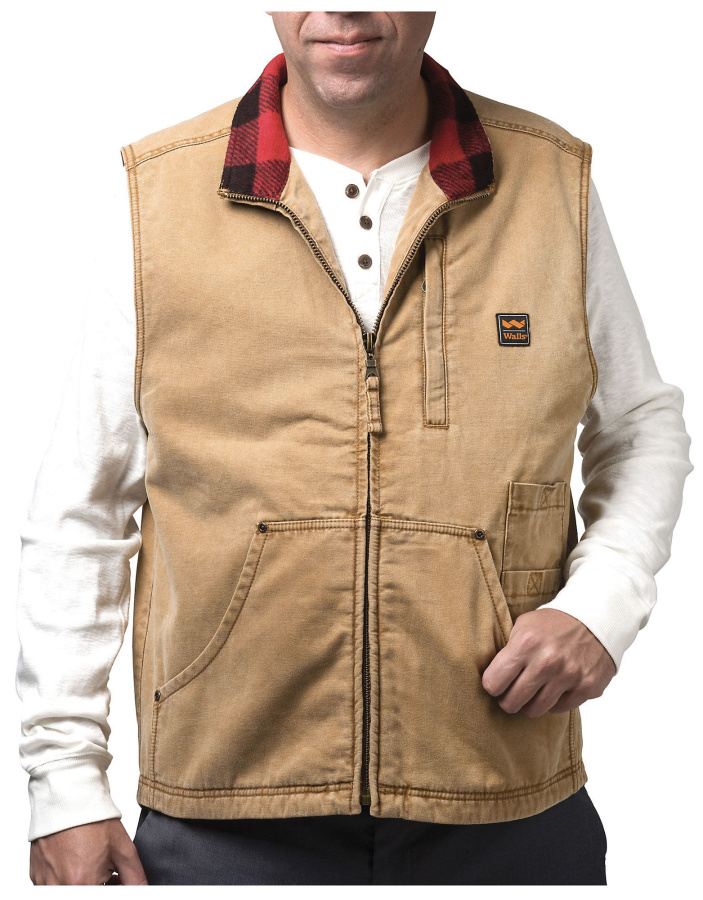 We love this jacket so much we pray for cool weather. Designed to maximize comfort and mobility, it's hard not to be productive when wearing it. The weathered appearance comes courtesy of high quality stonewashed, sanded 10 oz. duck. Between the piece's seven, secured pockets, it's easy to keep your valuables separate and safe. It's the kind of jacket your friends will want to borrow. But don't let them. Once they try it on they won't want to give it back.
Why We Love It: Hoods. You either love them or you hate them. We love this one. It's fleece-lined so your ears stay cozy and the toggled drawstring makes it easy to adjust so you can keep drafts out. When you're not wearing it, the buffalo printed plaid peeks out and stands in stylish contrast to the sandy color of the rest of the jacket.
Price: $111.99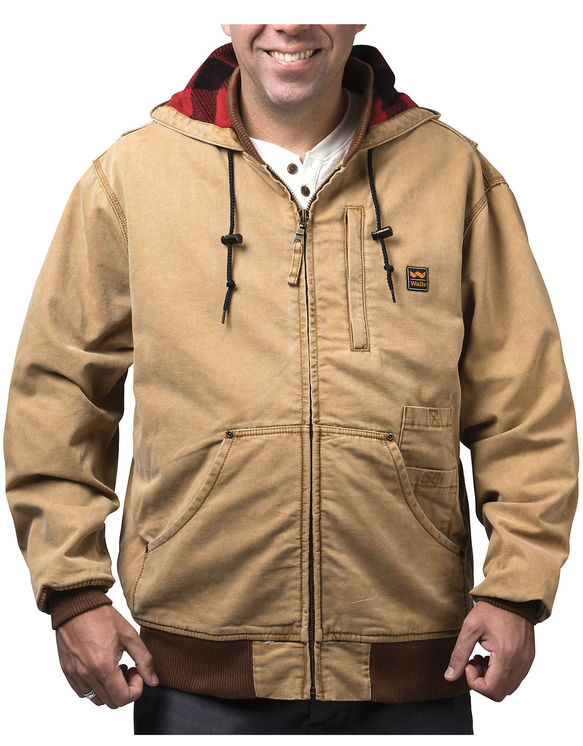 Riding in the rain doesn't have to result in wet feet. With the aptly named H20 from DZR, soaked socks can become a thing of the past. Clip into your SPD pedals for a long ride or wear these sheepskin leather shoes out for a walk around the block and lunch with friends. The durable water repellent coating and completely sealed seams keep even the tiniest of water droplets at bay. Even though they feature laces—a cycling shoe no-no— there is a convenient clip so you don't need to worry about getting a lace caught in your chain.
Why We Love Them: They look like regular shoes. Too often, cycling shoes and cleats resemble bowling shoes. But this stylish footwear is just as at home in a mall as it is on a mountain bike.
Price: $169