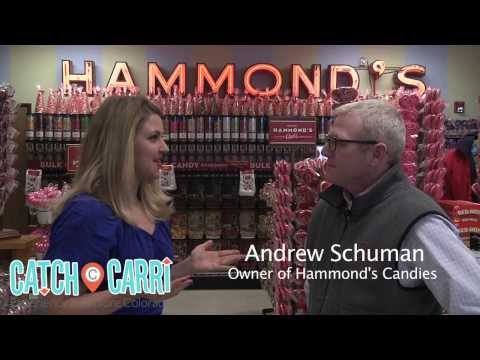 Video: Andrew Schuman, owner and president of the Hammonds Candy Factory, tells the history of Hammond's candy. Some of the recipes date all the way back to the 1920′s! Watch as candy is rolled, shaped, baked and packaged at this Denver location. The Hammonds Candy Factory manufactures over 150 types of candies. It was among the first candy factory to manufacture all-natural hand candies, which uses tapioca syrup instead of corn syrup. The company is also making moves when it comes to sugar. "We are changing from beet sugar to cane sugar, because cane sugar is non-gmo.  This is where the market is telling us to go, so we are listening," says Schuman.
I had the chance to catch up with Andrew Schuman to learn more about the legacy of Hammond's Candy and how the company manages to stay competitive in the ever changing business world.
Q: Tell us about the Rich History- including using recipes from the 1920′s as well as the older machines.
A: Hammond's Candies was started in 1920 by Carl Hammond.  He had come home from school and told his mother he did not want to go back, she said he needed to find a trade then.  He became the apprentice to a candy maker, and soon opened his own company.  Today, we are still using the recipes and equipment Carl used when started Hammond's Candies.  We do everything in small batches, with extremely well trained cooks, that are all linked to people that learned from Carl.  The machinery at Hammond's is all from the late 1800s, early 1900's, including out copper kettles, candy pullers, ribbon crimpers and batch rollers.
Q: What makes Hammonds Candy Different than other Candy operations? Hammond's is the largest handmade candy company still around today. 
A: The way we make our candy takes more time, but it is definitely noticeable in the final product, every piece is like a work of art.  There is no way to achieve the colors, styles and craftsmanship of the candy by making it any other way.  In a time where everything is becoming automated, Hammond's has stayed true to its roots by making quality candy.
Q: How has Hammond's Candy had to evolve over the years to stay competitive?
Hammond's is known for its nostalgic candy, but it has been important to freshen up the line with new flavors and colors.  Another large part in evolving the company, is branding.  We have brought Hammond's into the 21stcentury, with a hip, nostalgic look.  It is fun and appeals to all generations.
Q: What is the most rewarding part of the business? 
The 3 most rewarding parts of the business are watching how the company has grown, how they employs have grown, and the how the customers react to the candy.
Q: Tell us more about your background.
Have you owned a business before? Before Hammond's, I was in the photo business, I owned a bunch of mobile photo centers on the east coast.  That business was dwindling with new technology and I was ready for a change.
Q: What is something readers would be surprised to know about Hammond's Candy? 
We eat, sleep and breath candy.  Always thinking and trying new flavors and ideas.  People are always surprised to know that we are still making everything by hand, if you don't believe us, come check out one of our free tours.  We have also had some employees still working here that were around when the company only had 4 employees.