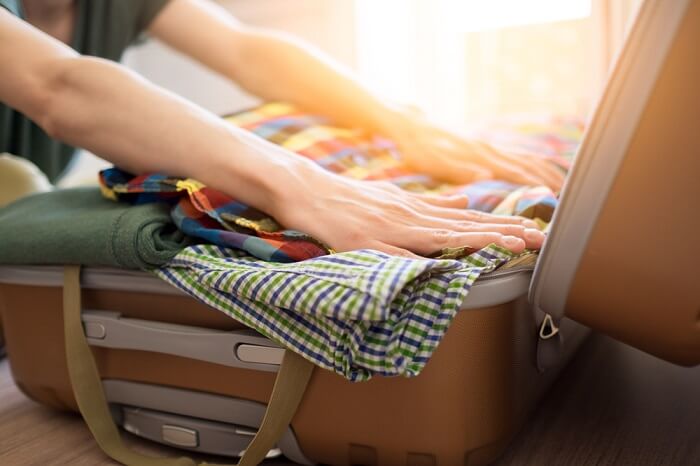 14 Sep

Creating a Minimalist Wardrobe for Your Travels

When you travel a lot, you are always looking for ways to keep your costs under control. After all, the more cash you save the more you can travel. The last thing you want to be doing is wasting money on things like baggage fees.

Therefore, you learn to travel with cabin luggage, as often as possible. You get quite good at fitting a lot of stuff into a small space. But, the key to being able to travel light is buying the right apparel. To help you to do exactly that I have pulled together a few tips.
Focus on lightweight clothes
If you do not have a lot of space or a very high weight limit you need to take as many lightweight clothes as possible. A great example, of how to do this is to choose jeggings over jeans. They are not as durable, but they are definitely a lot lighter. Provided you buy the right pair, they look every bit as good as a pair of heavier denim jeans does.
Choose easy care fabrics
The other advantage of taking mainly lightweight clothes with you is that they are easier to wash out and dry. If you are going to be away for a few weeks, this is an important consideration.
You also need to limit clothing that needs to be ironed. A cotton polyester blouse can look just as stylish as a 100% cotton one does, but it is much less likely to need ironing.
Dress in layers
Unfortunately, wherever you travel to, at some point you are going to experience cold or wet weather. Therefore, you need to be prepared.
Fortunately, you do not need thick clothing to be able to stay warm. Numerous studies have shown that dressing in layers keep you warmer than wearing a single layer of heavier clothes does. Bear this in mind when you choose your clothes. Think about which items you are likely to wear together and make sure that the top layers are big enough to be worn over other clothing.
It is also well worth packing some lightweight waterproofs too. Do not forget to include something that can be stretched over your case or backpack to stop water from getting in and ruining your clothes.
Stick to the classics
When possible, buy classically cut clothes. They have a timeless quality, which means they never really go out of style. If you do this you will look good and find it far easier to buy clothes locally when you have to. Classic clothes travel well and fit in better with other styles of clothing.
Mix and match
When putting together your travel wardrobe aim to create as many outfit options as you can. As far as possible, all of the tops you take should be able to be worn with all of the pants and skirts you pack. Try to stick to just a few colors. This will make it easier for you to create outfits that look right. This page includes a great color chart that will help you to come up with a color palette that works.