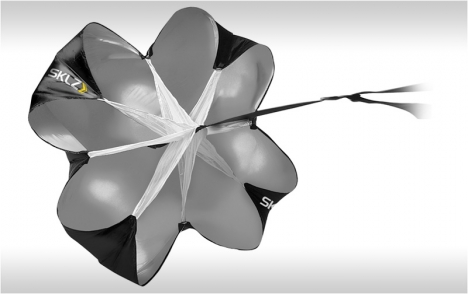 26 May

Eight Fab Fitness Finds

Routine workouts can become boring, fast! So put down the barbells and step away from the treadmill and try some new gear to regain motivation! From weighted hula hoops and jump ropes and even speed chutes… here are some ways to mix in variety. Staying in shape has never been so fun.

1. Gibbon Slacklines  ($74.99)

Walk the tight rope with a slackline. It can seem intimidating but Gibbon Slacklines has opened up the sport by making one with a nylon webbing that is easier to use. After rigging the slackline between two trees, slackliners balance themselves and walk along the webbing. In no time you may even performing twists, turns and other nifty tricks. The slackline easily loosens and tightens and is easy to transport. Benefits include: improved balance, agility, coordination and abdominal strength. Gibbon Slacklines makes a variety of slacklines that cater to both beginner and advanced levels.

You can also check out the book "Get Fit With Slacklining" for tips on how to get started and other ways to incorporate slacklines into workouts. We are talking push-ups, dips, squats as well as ab and balance exercises.

2. Body Hoops ($44.99)

Channel your inner child and grab a weighted hula-hoop. Body Hoops makes it easy to get in the swing of things by making a variety of hoop sizes as well as that are easier to master. One option is the Infinity Travel Hoop, which folds up to a quarter of its size making it easy to travel with. The hoops weigh about 2 pounds and are available in three sizes. Several bright tape color options are available.  Also check out the BodyHoops DVD for a guide on how to get started. Get ready to work your thighs, abdominals, glutes and arms all the while having lots of fun!

3. Speed Chute ($29.99)

Train with the wind! Speed chutes use resistance to build strength, agility and speed. They are easy to use- just strap the belt around your waist and take off running! As the parachute catches air, you will have to work much harder to keep momentum. It can cause up to 30 pounds of force pulling you back, making you work harder to increase your stride. Whether a long distance runner or sprinter, expect to increase speed!

Muster a pull up with the pull up Revolution. This nifty fitness tool gives you the leverage needed to fully master the pull up motion and build strength over time without sacrificing form. As you gain strength, you can easily adjust difficulty until you get to the point of no longer need the support. Which means you are cranking out pull ups like a pro! The Pull UpRevolution comes with a DVD to lay out instructions as well as showcasing other ways to use the band for exercise. The Pullup Revolution Pro installs quickly and easily.

5. Weighted Jump Rope ($44.95)

Get your heart racing with an old school recess favorite. Hoop Skills bumps up the challenge with the Original Heavy Rope, which adds weights to the rope. As a result, cardio and strength combine for an efficient workout that builds strength in arms, legs and core. It's available in 1, 2, 4, 5 and 6 pound weights. Ropes are 8 feet in length.

6. Premium VersaBar ($17.95- $74.95 depending on weight)

Enhance your workout with weighted aerobic bars. Matching any fitness level, these bars are available in several different weights, starting at four pounds all the way up thirty-six pounds. The steels bars can also be used in a variety of ways to work a variety of muscles including chest, shoulders triceps and glutes. Benefits include: core and joint stability, range of motion, balance and strength and conditioning. Available at  http://www.power-systems.com/

7. Premium EVA Foam Roller($13.95- $28.95 Depending on Size)

Prevent injury by foam rolling. This tool offers many of the same benefits of massage but without the hefty price tag. Like traditional stretching, this is a great tool for lengthening and elongating muscles, as well as a way to loosen up tight and fatigued muscles. Other benefits include: increased range of motion, circulation and can help break up scar tissue. It helps or work out soreness in hip flexors, IT Band, hamstrings, lutes and calves.

Premium EVA Foam Rollers are available in four different sizes. Made from EVA closed cell foam, the roller feels soft against skin while providing firm support. Available at  http://www.power-systems.com/

8. Lateral Resistor ($19.99)

Fire up hips and glutes using a Lateral Resistor. One of the most common exercises to increase speed and agility is the lateral walk. Standing with legs shoulder width apart, move one foot out to the side as far as you can. Next, bring in the opposite leg before taking another gigantic lateral step to the side.