13 Aug

Exploring The Outdoors in Asheville, North Carolina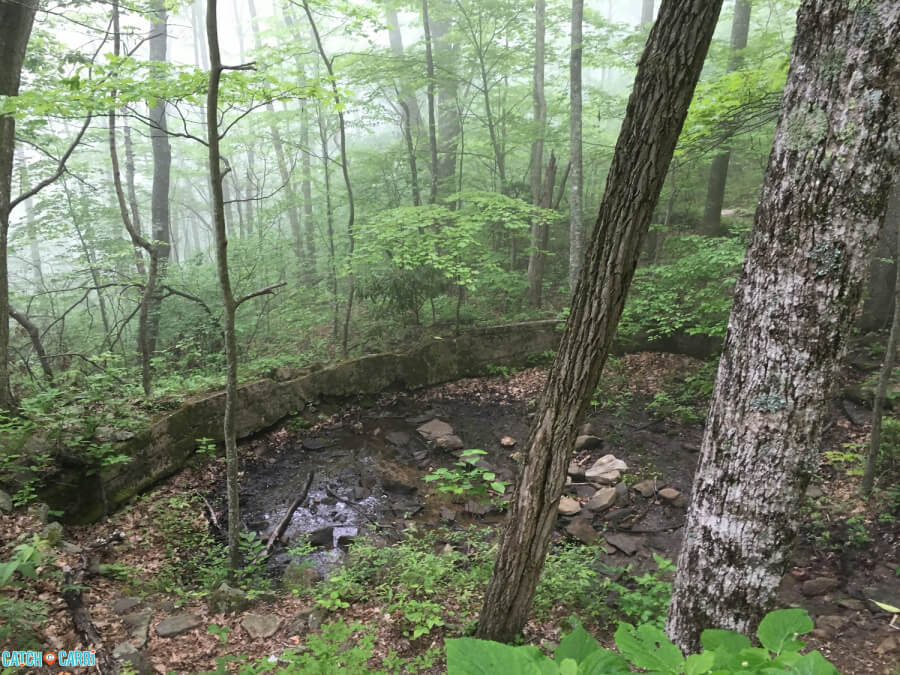 Asheville, North Carolina is definitely known for its microbreweries, with new craft beer houses opening all the time. But the Blue Ridge Mountain town is also filled with an insane amount of outdoor adventure experiences that make for just as enticing a reason to visit. And since the two often go hand-in-hand, a visit to Asheville is a double win, for anyone who enjoys a cold brew after a day playing in the great outdoors. From some of the countries highest and longest zip lines to world class hiking along the Blue Ridge Parkway, all of which can be found just minutes from the downtown core, here are my seven picks for enjoying the outdoors in this fun laid-back town.
1. Mushroom Foraging
After spending an afternoon with Alan Muskat, "The Mushroom Man of Asheville," I can't help but wonder how many passed missed opportunities I have had passing wild edibles in hikes and parks. Alan takes groups on foraging walks to look for wild edibles throughout Asheville and the greater area. The area around Asheville, that includes the Blue Mountains and foothills of North Carolina, includes some of the greatest biodiversity in North America. And there are more species of plant found in North Carolina than any other similar size space on the continent, making mushroom and edible foraging prime. Alan chooses where you'll go based on the season, but often ends up in places like Pisgah National Forest and the Great Smoky Mountains. When I visited, we headed to Black Mountain, which is near city limits, because the edibles picking was bountiful there then. And while mushrooms are always a focus to forage, there are dozens more edibles Alan points out along the way. On our tour we gathered wild onion, tips of hemlock, bamboo shoots, sassafras root, nettles, reishi mushroom, elderflower, birch and pine needles.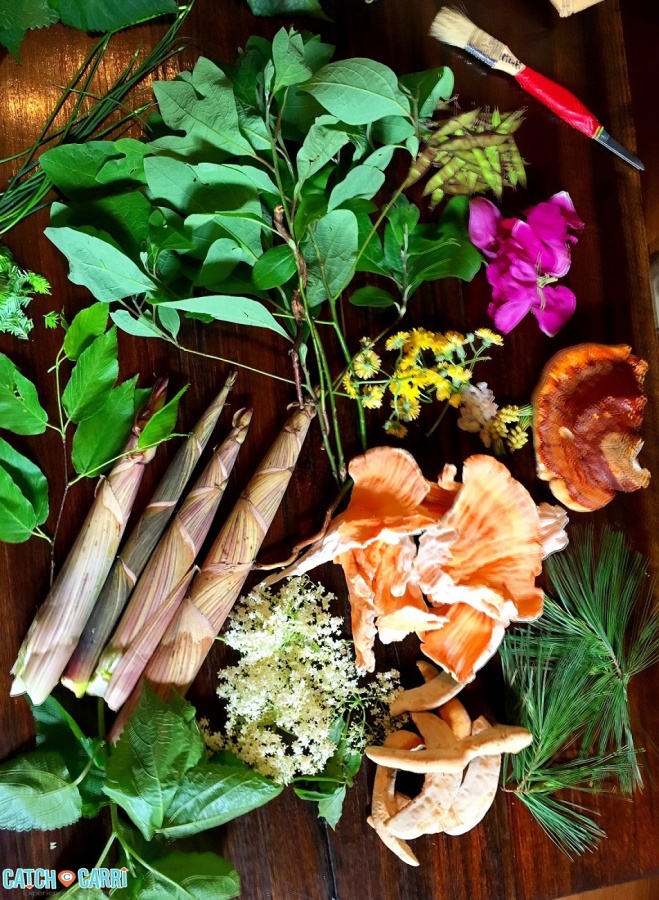 The best part of these tours is getting to eat what you gathered. After foraging is finished, we headed into town to Market Place, a local restaurant, where executive chef William Dissen cooks up some of what has been gathered. For my group, he made a creamy mushroom ragu sprinkled with elderberry flowers atop a puree made from the nettle leaves. It was nutty and delicious and the fact that the ingredients had been gathered less than two hours before, seemed to make the food taste even better. Dissen agreed:
"I think to be a great chef, you need great ingredients." William Dissen. "Overall, Asheville is a great place for crops because of the biodiversity here."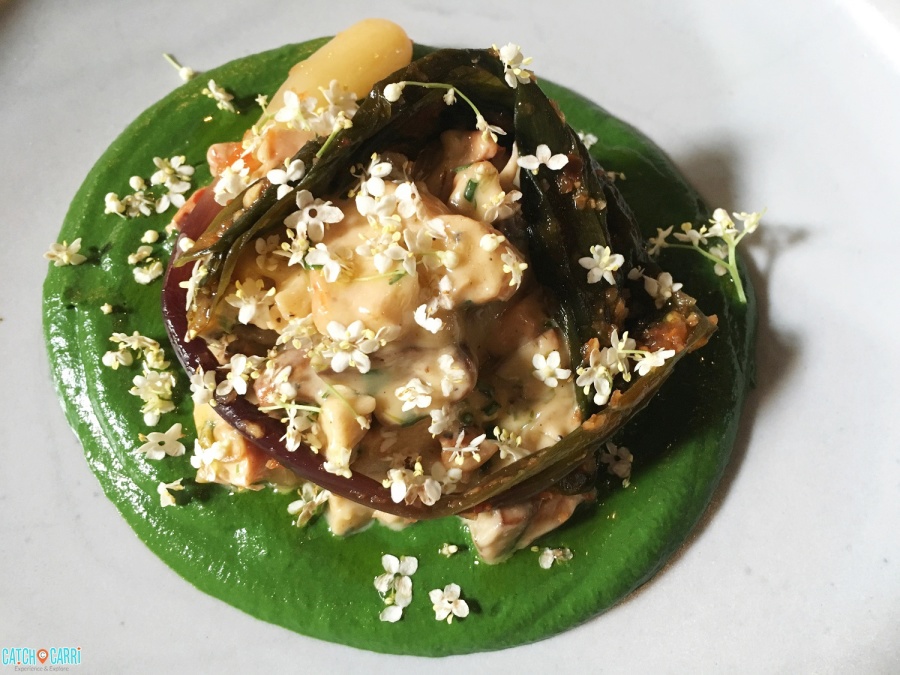 Pricing:  $75/adult, $30/child (suggested donation)
2. Asheville Treetops Adventure Park
After doing a few ropes course, I have to say it isn't my top pick while visiting a destination. But I make an exception to my rule when it comes to Asheville's Treetops Adventure Park. I think they are incredibly fun, even when they aren't always as challenging as you hope for, and often times you are sharing the course with a young group of kids. But, unless you are an American Ninja Warrior, I am willing to bet you will find the red course at Asheville Treetops Adventure Park (part of the Adventure Center of Asheville) at least somewhat challenging.
The course starts with a steep climb to and continues to a series of several metal hula hoops hanging from a rope that are spread far enough from each other that it takes intense focus, a lot of flexibility and quite a bit of balance for me to reach each one. Towards the middle, the biggest reach came into play, and I collapsed – yeah bragging aside, I was feeling challenged here. Of course, falling isn't dangerous as you are secured on the course by a smart belay system, but it took me a few more minutes to work up the strength to continue. I was actually ready to completely quite at that point, shouting that I may need a rescue, but rangers below, as well as the owner, Jeff, shouted words of encouragement that spurred me to continue on. I'm glad I did. My favorite challenge on the course, and one I hadn't seen before, was a suspended rock-climbing wall that also looks like it belongs on American Ninja Warrior. If you go, plan on about two hours to enjoy the course. There are also easier courses but if you want a challenge, I encourage you to go for the red- and if you fly through it email me and I will send you a high-five.
Pricing: Adults $49
3. Kolo Mountain Bike Park
Kolo Mountain Bike Park is also part of the Adventure Center of Asheville and has mountain biking trails that meet all levels. It makes a fun additional activity to the ropes course if you're upper body and core is strong – otherwise you may be really tired. I met up with course owner, Eric Krause, who took me on a ride through the 4-miles of trails. We started on the pump track where it took me a few tries to get a hold of the idea of not using brakes or peddling as we ride over small hills bumped back to back and over banked turns. Eric threw out a few tricks in this area, which makes it fun for more riders of all levels, before continuing on trails that took us through woods, over some technical rock features (ok, you caught me, I walked over some) and along flowy trails that were dreamy to ride. We then wound by a golf course before dipping back into the woods and ending with a few more features Eric designed and built into the park for experienced trick riders, including wooden bridges and even higher banked turns.
When you go, plan a few hours to ride the whole park and play on the different features. You can rent all needed equipment on site too.
Price: Full day access runs $19 + bike rental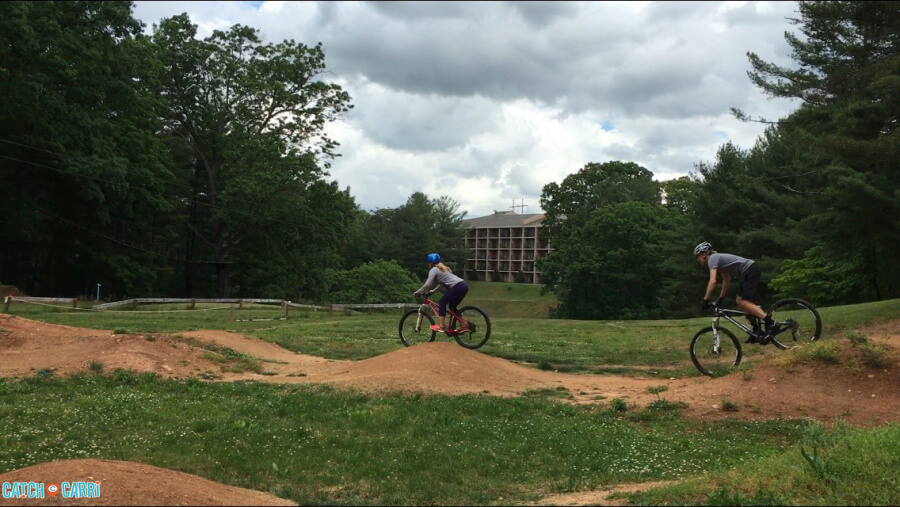 4. Sunrise Stand up Paddle Board
I am not always a morning person, but when it entails a calm paddle on Hominy Creek, I am up and at 'em. There is something calming about paddle boarding and even more so when the sun is starting to stretch over the Blue Ridge Mountains, casting a light on the water that reflects the bright green trees huddled along the creek banks.
While its still dark out, I met owner of Wai Mauna SUP, Kyle Ellison, who has been running tours in the area for two years. We put in our boards at Hominy Creek, which eventually meets up with French Broad River. After running me through the basics of navigating on flowing water, we enjoyed the stillness of morning, where it feels like the next soul is miles away, by paddling in silence. After a few minutes of SUP meditation, Kyle talked about the history of the area and local wildlife, conversations that are integral to all his company's trips by either himself or his team of knowledgeable guides. Keep a camera handy, because along the way you paddle past some cool sites, including the Biltmore Estate, where you catch a glimpse of the exterior of America's largest home, built by George Vanderbilt.
Most tours run a 4-mile route that lets out at New Belgium Brewery in the River Arts District – I love it when tours arrive at a destination, especially when it's a brewery!  While at this early hour the taproom is closed, most SUP boarders go later in the day and get the chance to check out one of Asheville's newest breweries, that is one of the pioneering breweries in my home state of Colorado, via paddle board. If you go, make a day of it and plan to explore the areas many art galleries after a Fat Tire or two. Cool fact: $5 from every paddler is donated back to RiverLink, an organization that helps restore the river's health.
Pricing: $35 for a self-guided tour and $75 for a guided tour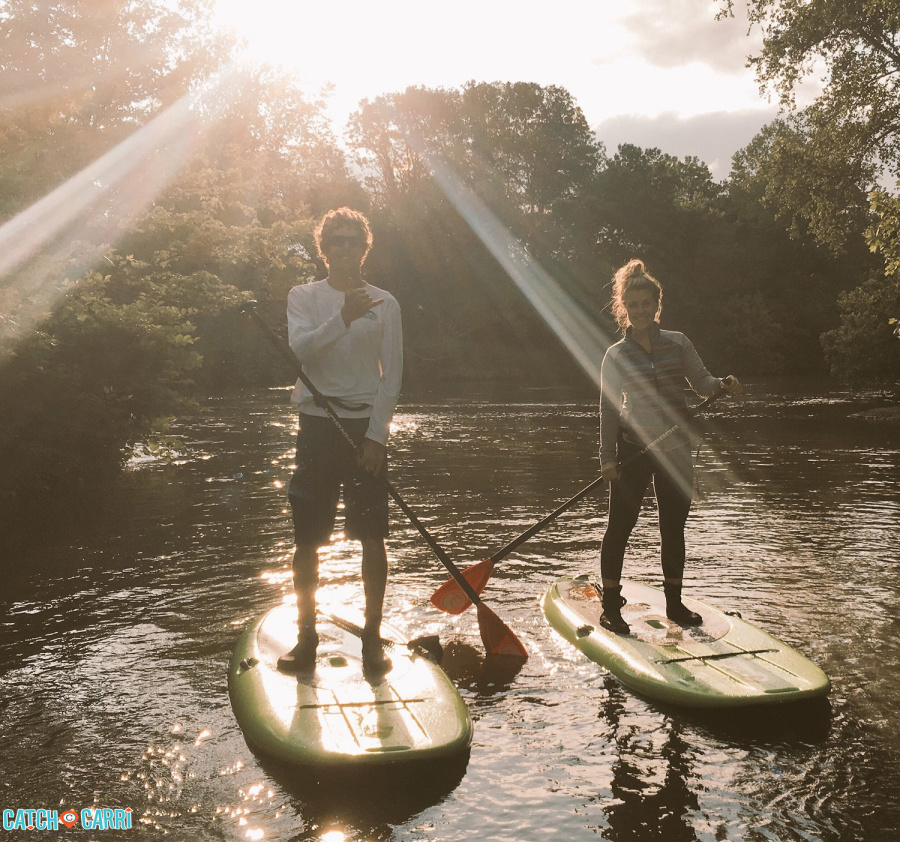 5. Hike with Blue Ridge Hiking Company
I am always up for guided mountain hikes because I love learning about the area, wildlife and getting to chat with a local. In Asheville, I went with Blue Ridge Hiking Company, which is run by Jennifer Pharr Davis and her husband. Davis is a world-record setting athlete, setting the unofficial record for the fastest Appalachian Trail thru-hike, when she did the 2,100-plus-mile trail in 46 days, 11 hours, and 20 minutes in 2011, which is an impressive average of 47 miles a day. She held the record for three years until when Scott Jurek finished the thru-hike a mere 3 hours and 12 minutes faster on July 12, 2105. Davis has actually hiked the Appalachian Trail from top to bottom some three times now, and when it comes to distance hiking she's racked up some 13,000 miles on six continents total.
For my trip I opted for the half-day hike (the company also does full day and multi-night trips), which I'm slightly intimidated about doing with such a super star. But it turns out that Davis, despite her impressive resume, is down-to-earth and friendly. When I started singing her praises for her athletic endeavors and feared I may not be able to keep up, she brushed it off. Saying she was in a "different season of life right now," one that focuses on her business, speaking engagements, and 3-year-old daughter.
We hiked the Rattlesnake Lodge Trail, a hike that is less than a 30-minute drive (you want plenty of time to check out those craft breweries afterwards, right?) from downtown Asheville. It's a cool hike, because it mixes in some local history. For instance, along the way, you hike to the ruins of a lodge that was built in the 1900's and burned down in 1926. It was the summer home of Dr. Chase P. Ambler. It's also filled with all the bio-diverse elements this region is known for: we passed blooming wildflowers, a water snake, stinging nettle similar to what I'd picked on the mushroom foraging trip, tiny bright red salamander smaller than my index finger known as red efts, and my new favorite, flower, lady slippers.
Pricing:  Several options available depending on trip. Visit the site here for current rates.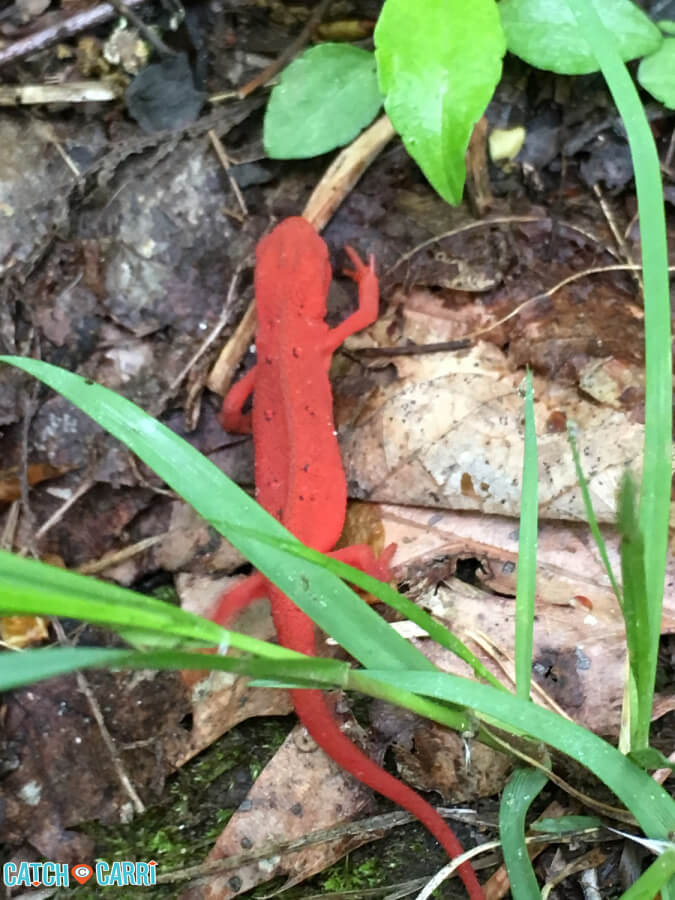 6. Zipline Through and Over the Blue Ridge Mountains
I'm a big fan of zipline adventures. I just love the feeling I get racing down a line of rope. So I was excited when I found out that some of the fastest, longest and highest racing zip lines in the country are found at the Blue Ridge Experience, which is part of Navitat Canopy Adventures. A series of three side racing zip lines that are 1,100-, 2,300 and 3,600-feet-long respectively, they ride fast and offer amazing Blue Ridge Parkway views on a clear day. It was threatening rain when my tour started, with clouds rolling in and obscuring the mountains in an ethereal fog. Although it cleared for my first zip, it returned for my last run, and on the longest zipline my sight was completely obscured by a thick cloud canopy, which was both terrifying and thrilling to fly through – especially since you have no idea when the ride is about to end until the brake at the platform stops you! I really loved the length of the third zipline too. It's long enough to get over any fear of flying and savor every second in the air above the trees. The tour for this, takes about 2.5 hours, which leaves you plenty more time to fit in more activities on your stay. If you want to zip even more, however, check out the Moody Cove Tour, also offered by Navitat.
Pricing: $99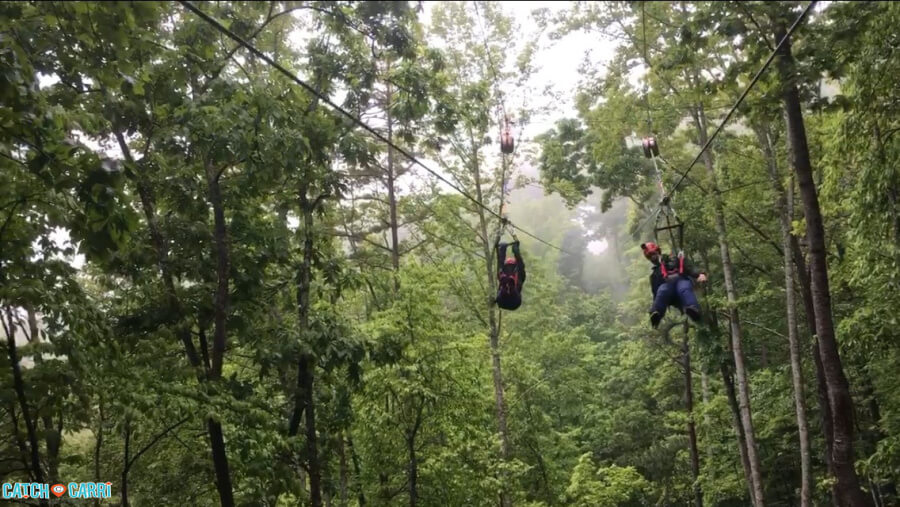 7. Indoor Rock Climbing
When it comes to outdoor activities in Asheville, Smoky Mountain Adventure Center, is a place I had to stop for one of my favorite activities: rock climbing.  They offer both indoor and outdoor climbs (these are guided with sister company Climbmax Mountain Guides) but I stick with the indoor to work on some technique. There are 5 walls with autobelays set up, which is great for me traveling without someone who is belay certified. There's also a bouldering wall and top rope and lead climbing areas. Best of all, this is a fun experience and great way to meet locals while getting a workout in. There is also yoga and taichi here and a rooftop bar that is opening soon.
Pricing: $14 for ropes and bouldering. (Doesn't include equipment rental. Prices listed here)