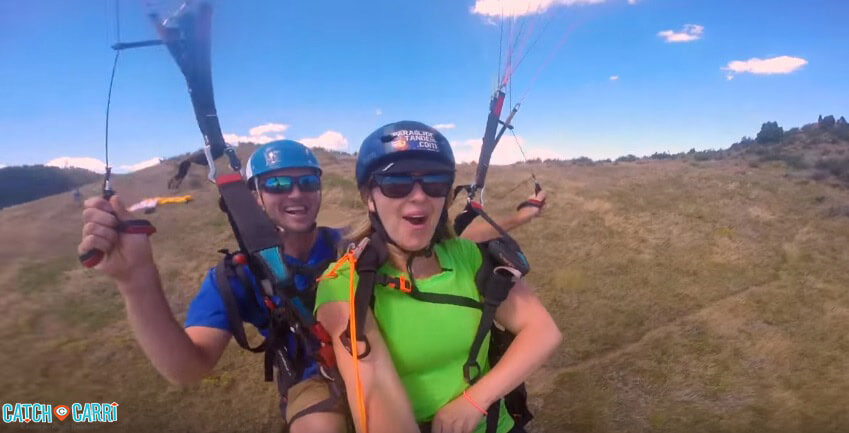 27 Sep

Gliding Over Golden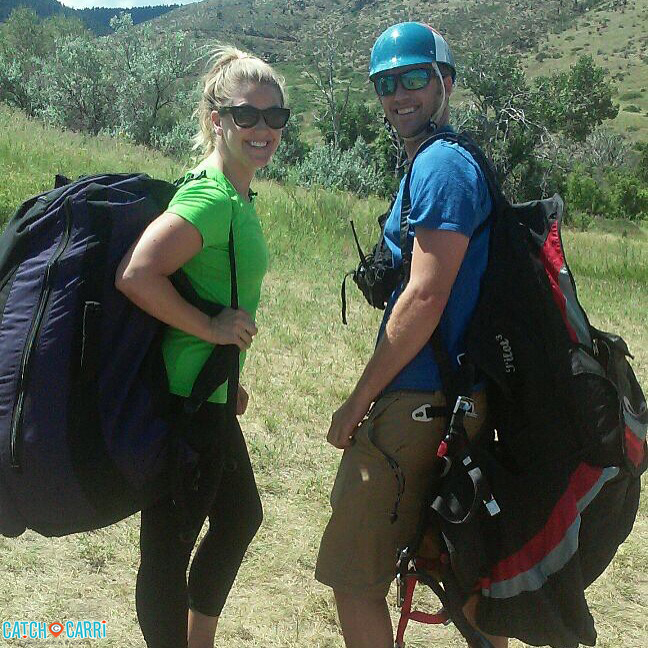 I stood atop Zion Mountain, looking down at the town of Golden, outside Denver on the edge of Colorado's Rocky Mountain Front Range, trying to get my nerves to settle before soaring across the city. It wasn't until a speedy and steep 10-minute hike to the top, that I realized nerves were rumbling through every cell in my body. Running off a mountain in a tandem paraglide would of course be thrilling, but also equally terrifying.
My nerves started to settle after meeting my instructor, Jason Ely, who owns Paraglide Tandem. He has done hundreds of flights and even claimed the tandem distance record from Lookout Mountain in Golden when he flew all the way to the town of Lyons near Rocky Mountain National Park. He comes from a world of both speed flying, where descent and flying close the terrain is the goal, and also paragliding, where the intent is to soar thousands of feet in the air for big distances.
To get ready for the flight, Jason pulled the wing out of the massive stuff sack he hauled up the mountain so we could attach our harnesses to it.  After giving me all the instructions needed for safety, take off and landing, we were ready to ascend.
Flashes of Fred Flintstone came to mind as I peddled my feet on the ground running towards the edge of the mountain, summing up all my courage for the seemingly daunting task of hurtling over it. But alas, before we could get air and start soaring, a giant gust of wind picked us up and tossed us on the ground, abruptly halting the flight and making me feel like I was part of a UFC Fight in the process.
On the second attempt, I ran with even more might, determined to not hit the ground this time – honestly, that seemed worse than flying over the edge. Just when I thought we were destined for this direction again, however, Jason muscled us off the mountain and suddenly we were soaring as our canopy finally caught an air stream.
It felt like a giant kite carried us across the Front Range letting us catch aerial views of the Coors Brewing campus, downtown Golden and the Rocky Mountains.  After we were lifted, we sat back in our harnesses, which double as a seat, making it feel like a smooth ride in a beach chair. Once in flight, it's quiet and peaceful up in the air. Besides the conversation Jason and I had, the only other noises were the quiet beeps of the variometer, which helps pilots find rising wind to ascend, and the fabric of our glider waving in the breeze.
But before I could even dream of getting bored, Jason notched up the adrenaline to our smooth ride with a spiral dive- the most rapid from of a fast descent. I held my breath, gripped the harness and handrails and perched my lips together as we leaned to the left, allowing us to swirl in tight circles towards the ground for a more intense kind of ride.
After soaring for about 30 minutes, we made our way in for a smooth landing. Jason reminded me to start running again when my feet hit the ground. I started peddling my feet in the air, ready to hit the ground running. Once back on land, I was ready to haul back up Mount Zion, ready for flight number two.
Flights run $175. No experience is required. To sign up or for more information, check out Tandem Paraglide.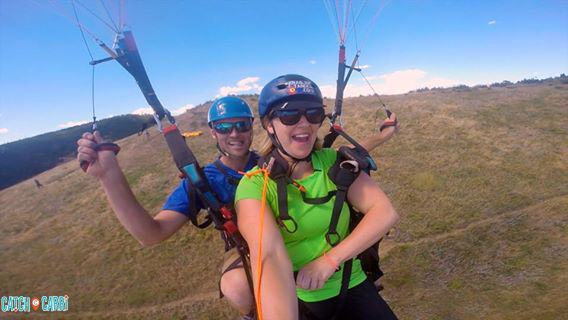 Check out our Q&A with our rock'n guide,  where he talks about his aviation background and how be became a pro paraglide instructor.