22 Apr

Destination Guide to Quebec City, Canada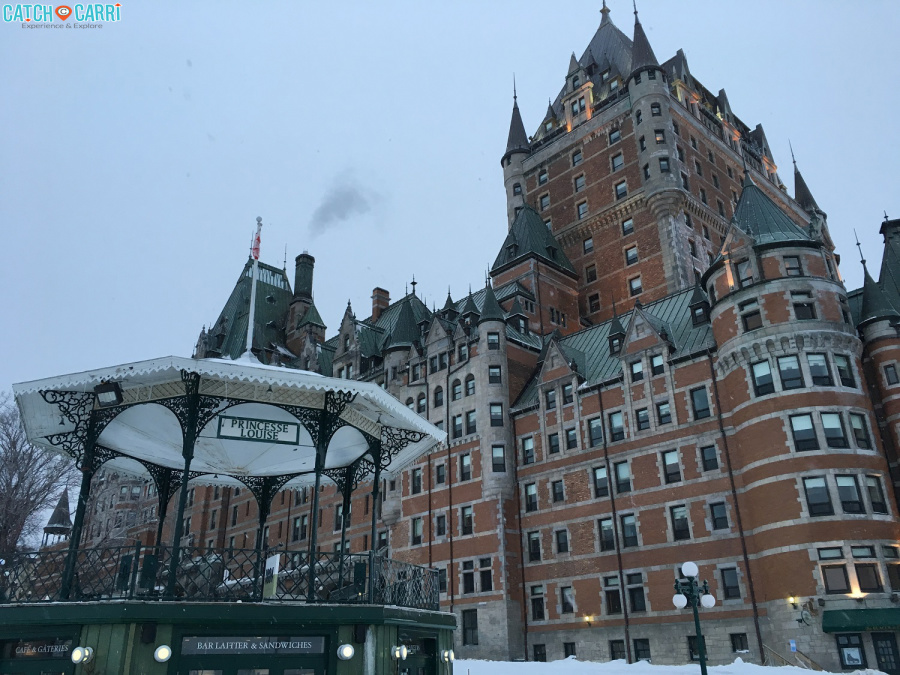 It was a few months past Christmas and yet the spirit still lingered in Québec City. The capital city of French-speaking Canada was draped in snow, its buildings lit by twinkling lights and people moved in and out of shops and restaurants in a cheerful manner that made me feel the holiday season was still upon us in February.
Despite the cold, Québec City is a wonderful place to visit in winter I discovered on a recent trip. What I loved most about this city was how intriguing and foreign it felt to other cities in Canada: it is home to the largest Francophone population outside of France, for instance, and also is the only walled city on the North American continent found north of Mexico.
I also loved how active it was. No one seemed to mind that it was snowing; they still filled city parks, partaking in snowshoeing, cross-country skiing or running the Cap-Blanc Stairs (which is 398 steps and the longest staircase in town) at the Plains of Abraham. It reminded me of my hometown of Denver, although we usually had warmer temps and less snow this time of year.
When in a new city, I like to experience it the way the locals do, and since the locals were embracing the outdoors, I did the same, heading out for a run through the Plains of Abraham, choosing a path that connected the park the Fairmont Hotel.
It's a beautiful run in this direction, as the Fairmont Chateau Frontenac is easily one of the town's most recognized buildings, and a marvel of architecture on par with places like Parliament and the city's famous military fortification La Citadelle, which dates back to the early 19th century. The hotel also sits in the historic Old City, at its highest point, in Upper Town, offering sprawling views across the entire city and both its rivers, the St Lawrence and the St Charles. As I run, I ponder all this history found in Québec City, which is one of North America's oldest settlements.  And think about how the cobblestone streets and 17th and 18th century houses are reminiscent of what I'd seen on a recent trip to Europe.
Here are five experiences to have in this beautiful city in winter:
1. Wander Old Town
Québec City's compact size makes it ideal for walking, and it shines brightest when you slow down. The main focus of your visit should be the UNESCO World Heritage listed Old Town, split between the Old Upper Town (Haute Ville), perched above the St Lawrence River on the Cap Diamant cliffs, and the Old Lower Town (Basse Ville), where Samuel de Champlain established the first French foothold in 1608. The Old Town is packed with museums, mansard-roofed houses and cobblestone streets just begging to be explored. Note Upper Town and Lower Town are connected by sets of staircases.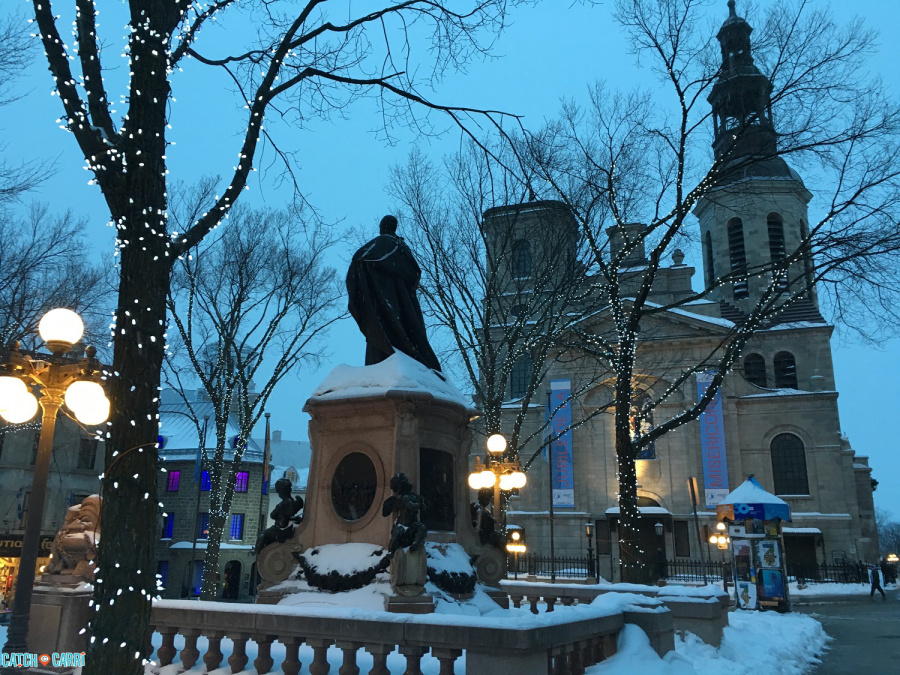 2. Sleep in an Ice Hotel
The first of its kind in North America, Hotel De Glace, open from the first week in January to the end of March, is built entirely from ice and snow each year – it's comprised of 500 tons of ice and 30,000 tons of snow and covers a 32,000 square feet surface area! And despite being made from ice, the ceilings here can measure upwards of 20 feet high, giving it a truly palatial feel. You can tour the art galleries of ice sculptures, get married in the chapel, lounge in the hot tub, have a drink in a glass made of ice at the bar made of ice and dance in the ice club before nestling into a bed that's made of ice but lined with deerskin (a warm sleeping bag is also provided). The mix of boutique (rooms have special themes and designs) and roughing it (toilets are outside) makes for a unique experience. The standard overnight packages start at around C$199 per person and include a welcome cocktail, access to the Nordic area's hot tubs and sauna, and a hot breakfast.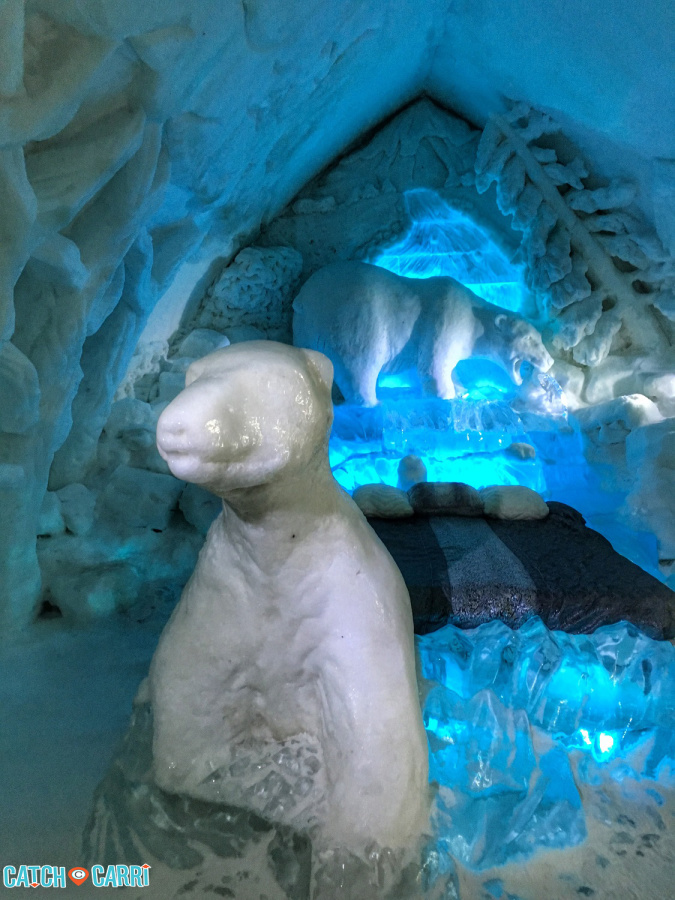 If you'd rather not brave the frigid temperatures for a whole night, you can take a tour of the facilities for C$17.50. Whatever you do, don't skip the ice bar, where you can hang out after a tour, and drink Caribou. And I'm not talking about the arctic deer species. The Caribou I was drinking is a sweet Quebecois alcoholic beverage comprised of red wine, whisky (or another hard liquor), and maple syrup or sugar. It's kind of like an intense version of sangria without the fruit.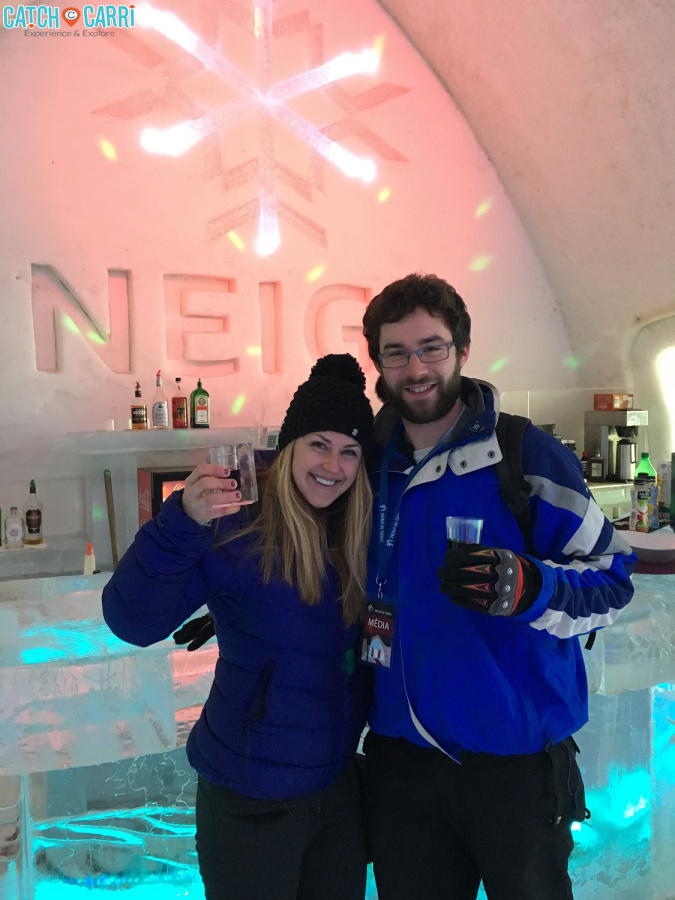 3. See Local Art
Québec City is filled with local art, including murals painted on pillars over high overpasses created by teams of street kids from a local charitable organization known as Maison Dauphine. At the other end of the spectrum, check out Place-Royale, in Old Town, which is home to the immense Fresque des Québécois on Côte de la Montagne. This mural recounts the story of Québec City, weaving in visual allusions to its unique architecture and fortifications, and its larger-than-life personalities. Look closely at the building's windows: you'll see some 15 historic figures and nearly a dozen of Québec's leading writers and artists. It's truly a breathtaking work!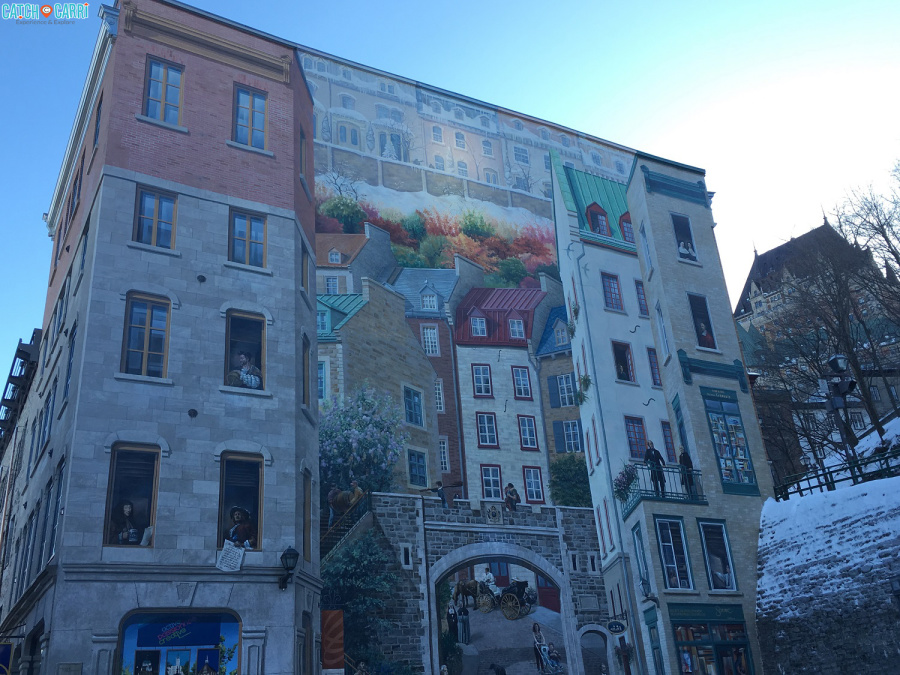 4. Explore Montmorency Falls Park
It's not nearly as wide as Niagara Falls, but Montmorency Falls is more than 98 feet higher at 272 feet. It's an interesting stop in winter when the spray from the falls freezes. Located about 4 miles from town, look for the waterfall park right by the Taschereau Bridge on the way to Ile d'Orleans. You can walk over the falls via a suspension bridge, accessed by cable car that lets you see and hear the water thundering below. The park is free but parking ($10 per car) and the cable car (adult/child $11/6) can add up over the average one-hour visit. You can opt to walk the circuit instead of taking the cable car up.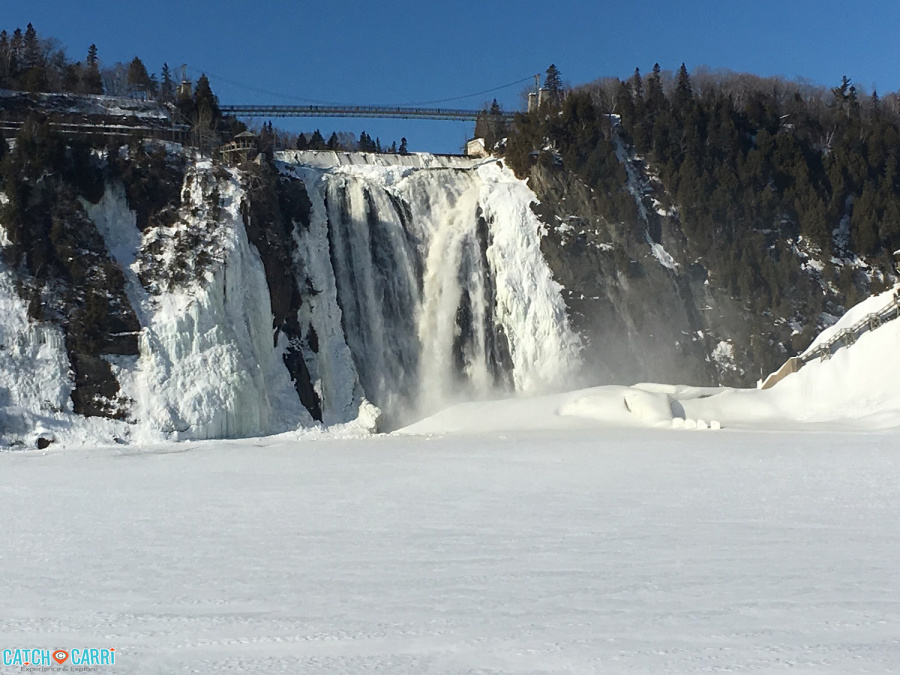 5. Winter Fun at Village Nordik
Another fun winter experience in Québec City is Village Nordik in the Old Port de Quebec. Here you ca experience winter in an original and entertaining manner in a special village located in the Louise Basin. An outdoor recreational site, it offers everything from ice fishing to ice-skating and is an especially good choice if you're traveling with the family and looking to entertain the kids.
Where to Eat: Il Teatro Restaurant
Located inside the Hotel du Capitole and attached to Le Capitole Theatre, Il Teatro is a stylish spot serving traditional Italian fare, including lots of hearty pasta dishes perfect for a winter evening, in the heart of the city. Check the website as the restaurant often offers specials – like two pasta mains and two glasses of wine for just CAD$30.
Where to Stay: Hotel Le Germain
A sleek boutique hotel in the Old Port area of town, the Le Germain sits inside a century-old building and counts models, international hipsters and record producers among it's guests. Rooms are beyond stylish with bedding designed by Marie Saint Pierre, who is a Québec fashion icon in her own right. A sliding wall of blinds separates the bed and bathrooms, and most of the elegant rooms have fabulous views of either the skyscrapers along avenue du President-Kennedy or Mount-Royal. There's even a Tesla charging station for electric vehicles.  Other plusses of this recently renovated hotel include a bistro restaurant, indoor pool, sauna and spa.