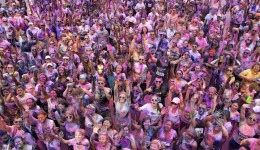 Enter for a chance to win a free race entry to Color Me Rad!
Race is September 29th at Botanic Gardens at Chatfield
EASY ENTRY
1. Like Catch Carri on Facebook http://www.facebook.com/CatchCarri
2. Leave a reply with your favorite color by scrolling down the very bottom of this post.
DONE!
It's an unusual but bright concept. A 5-k run combines with spectacular colors and easily selling out crowds. The Color Me Rad is on a nation-wide tour. Lucky for us in the Mile High City, we don't have to travel far to become doused in vibrant hues. On September 29th the Denver Botanic Gardens at Chatfield is hosting the lively event for thousands of runners.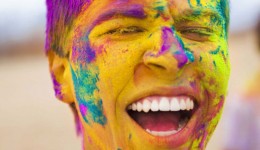 The race is undoubtedly one of the most popular to take off at such a quick pace.  The inaugural race hit the streets in May with several events selling out. There are already 42 races scheduled for this year and that number is sure to keep growing. It usually takes race series a few years to build up that kind of following but Color Me Rad has the special luster to zoom ahead.
"For years races were all the same. Timed events hitting the asphalt. We wanted to change that." It will be an unwelcome thought for some runners to go back to standard races after the exhilarating feeling of passing through six color zones. At each half mile marker runners bombed with colored corn starch. By the end you will leave looking like a painted canvas.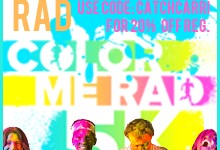 Each runner is equipped with a bleach white t-shirt that is anything but at the end. A portion of the race proceeds benefit the YMCA. If you are not a racer still consider coming out. You can even catch a killer view on top of a boom machine that will be lifting people to capture aerial views.
"You come out looking like a pack of skittles," says race organizer Justin Bankhead. "Just don't taste the rainbow."
To Color Yourself Rad visit: http://www.colormerad.com/races/denver.html