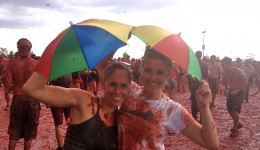 The dream of having an all out food fight came true for several hundred Denverites Saturday at Dicks Sporting Goods Park. Apprehension vanished as food fight lovers rolled into battle wearing goggles, shields and whacky costumes like marinara sauce and ketchup bottles. For one hour 15,000 pounds of tomatoes were chucked into the air. Once the fruit splattered on the ground it wasn't off limits. Soggy tomatoes and leftover goop were fair game to launch. The battle ended once nothing but tomato soup soaked the ground.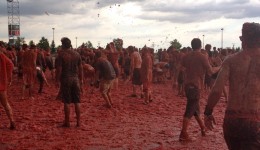 Creators of the race, Clint Nelsen and Max Kraner based the battle on Spain's traditional event La Tomatina. Spain's festival originated in 1945 but no one knows exactly why. What the town and tourists that come from all corners of the world do know it that the fruit fiesta is not to miss. Spain's four-day event goes full throttle starting on the last Wednesday of August each year.
Crazy food-fighting crowds in the U.S. can now get a taste across the United States without crossing the Atlantic. The next event is set for San Diego on July 14th, followed by Portland July 21 and Seattle August 11. Fights continue through the summer. Visit http://tomatobattle.com/ to see if a battle is coming near you!
Interview with creators of the Tomato Battle
*The bulk of the tomatoes come from farmers in Arizona and California who can't sell them to stores or customers. They would rot regardless. After the battle most of the remains are composted.