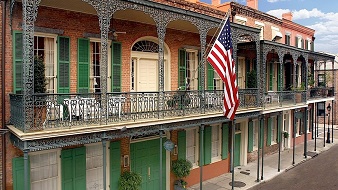 09 Jun

Top 10 Hotels In New Orleans

New Orleans is a city like no other. From the very outset of the city's founding, the many people living in New Orleans shared their cultures and traditions. This intermingling can be seen in the numerous influences in the city, from the stunning European-style architecture, the Creole and Cajun cuisine, and, of course, the numerous styles of music that the city is famous for.

When you visit a city as eclectic and unique as New Orleans, you will want to make sure that your accommodation matches the vibe of the city. These top hotels in New Orleans have their own character and charm which will be as unforgettable as New Orleans itself.

Hotel Mazarin is located in the French Quarter just a half block from the famous Royal Street. The location makes it ideal for taking in the nightlife and sites of New Orleans, but guests will also enjoy lounging in the hotel because of how authentically-tasteful the designs are. The main feature of Hotel Mazarin is its stunning courtyard with a fountain that especially looks beautiful at night when the lights reflect on the French-style architecture. Enjoy an evening cocktail here or a lazy brunch.

If you prefer a streamlined elegance over the frivolous style found in many New Orleans French Quarter hotels, then the Dauphine Orleans is the place. The hotel has left many of its 19th century features intact, but completely modernized them – such as with painted brick walls and exposed roof beams. A major plus of this hotel is that it has a full-size pool for guests, which will be a welcoming way to cool down after a day of sightseeing.

Audubon Cottages were built in the late 18th century, but have been completely renovated to offer modern amenities. Each of the cottages offers a completely unique experience, and cabins 2 and 4 are particularly popular with people hoping to encounter the "ghosts" infamously haunting them. The level of detail that goes into decorating each cottage helps create an unforgettable atmosphere.

If you are looking for a traditional French-style hotel in New Orleans, then this hotel is it. The Frenchman Hotel was built around 1860 and has been placed on the National Register of Historic Places. Some of the standout features of the hotel are its large windows, exposed brick walls, ornate fireplaces, and spacious canopy beds. Request a room which opens onto the courtyard and start your morning by having a coffee on one of the wrought-iron tables surrounded by tropical plants.

5. Carriage House at Maison Dupuy Hotel

The Maison Dupuy Hotel offers a wide range of elegant rooms and suits. If you want the ultimate experience though, then ask for the Carriage House. This is a 2-story cottage house with 2 bedrooms which gives you absolute privacy and luxury, including your very own courtyard, Jacuzzi, and work station.

The Soniat House is a group of townhouses in the French Quarter. Even the single rooms sacrifice nothing, with stunning traditional French details like embroidered headboards and decorative moulding. Thanks to the lush courtyards which are filled with plants, you will feel like you are on an island getaway.

7. Bienville House New Orleans

The Bienville House is a vast hotel, but you will feel like you are in your own private villa while sitting on your own sun deck with the lush tropical plants.  The heated outdoor salt-water swimming pool is one of the hotel's best features, and it is known for providing an incredibly high level of guest services and amenities, including daily newspapers, complimentary continental breakfast, and designer toiletries.

If you are looking for a more modern-style of luxury hotel in New Orleans, then The Saint Hotel is THE choice. The rooms feature bold designs like exposed brick walls contrasting against sky-blue ceilings, mirrored headboards, and claw-foot bathtubs set on black marble tile.  It has been described as an "adult hotel" because of its chic luxury, and because there are no kids allowed. Just make sure you ask for a room with a view.

The St. Christopher Hotel is a boutique hotel run by the Best Western group. As you'd expect from this group, the hotel offers a full line of amenities, including a complimentary continental breakfast and pets are allowed. The hotel has been done up in traditional New Orleans French style, with great touches like exposed brick in the rooms and wrought-iron in bar. While these aren't the nicest rooms available in New Orleans, there are often many specials available and the location is great.

Omni Royal Orleans is a vast 345-room hotel located in the heart of the French Quarter. It was originally built in the 1960s, which makes it one of the newer hotels in New Orleans. However, great care was taken to be true to the authentic New Orleans style. Guests will be awed by the luxuriousness of these rooms, such as the striking crown mouldings, the shimmering chandeliers, and heavy curtains surrounding huge windows looking over the city. The most notable feature of Omni Royal Orleans is its rooftop hotel with a stunning view of New Orleans.