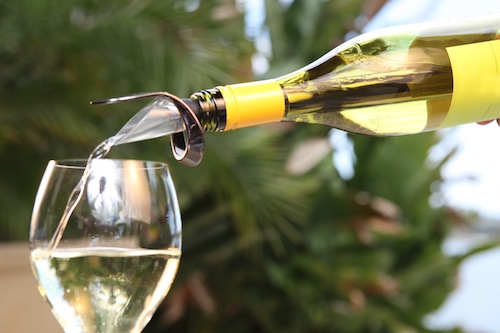 29 Jan

Top 3 Gifts for the Wine Lover in Your Life

Finding a gift for that wine lover in your life shouldn't leave you with a hangover the next morning.   Don't fret over finding them the perfect gift – we've rounded up the most creative boozy products that are probably on the top of any drinker's wish list.

No time for chilling wine in the refrigerator pre-party? The VinOIce wine pourer is the fastest and easiest way to pour chilled wine and an ideal gift for a hostess or wine lover. Whether they prefer white, rosè or red, the VinOIce works with all. Just pop it in the freezer and when you're ready for a glass, insert it into the bottle before pouring for an almost instant chill.

Every aspiring sommelier knows that wine needs to be aerated and oxidized for maximum flavor and quality. And if you're short on time and space, there's a compact, convenient tool for that. The VinOAir is an on-bottle wine aerator the eliminates drips, and fully aerates and oxidizes for the perfect pour in just seconds. The VinOAir features an innovative dual venturi chamber that pulls twice the vacuum as other popular aerators. For those who don't speak wino, that means that it helps unleash higher quality flavors and aromas. You don't have to be an experienced wine pourer to use the VinOAir: simply place it on the mouth of your wine bottle and pour yourself a glass of your favorite red or white.

Wine Pearls  ($29.95)

Another way to save someone from a watered down drink? Wine Pearls. Originally created with wine in mind, these pearls can be frozen and dropped in any cocktail for the perfect chill. Wash them and freeze them again – they're the eco-friendly alternatives to ice cubes.