02 Oct

Your Guide to 48 Hours in Salzburg

Filled with old world charm, European grandeur and an infatuation with classical music, Salzburg feels special the moment you arrive. Visiting is like wandering into a fairy-tale – the locals are charming, the architecture simply beautiful, and it's the prodigal birthplace of two of Austria's most treasured cultural icons: The Sound of Music and Mozart.

As many have come to realise, however, there are more stories to be found in Salzburg than just the Von Trapp family's. Here's how to go about exploring the finest this storybook city has to offer.
1. Fortress Hohensalzburg
Fortress Hohensalzburg sits commandingly atop Festungsberg Hill and it will gaze down on you mysteriously until you visit – so give in to curiosity and make it an early stop. Hohensalzburg was built almost 1000 years ago to protect archbishops, train soldiers and keep wrongdoers from the streets, and is now one of the largest completely preserved castles in central Europe.
The fortress boasts an intricate maze of history-filled rooms, an enthralling museum, and a large collection of ancient weaponry and relics. Make sure you get to the very top for a superior view of Salzburg and check in on the fascinating marionette displays. If you don't feel like walking up the hill, the funicular railway will get you there in just 40 seconds (and you can always stroll your way down afterwards).
2. Concert at Marble Hall
Mirabell Palace was named from the words 'mirabile' for admirable, and 'bello' meaning beautiful. As you float up the staircase to the enchanting Marble Hall inside, you'll be in awe of how on point that name is. Often described as one of the most beautiful wedding halls in the world, Marble Hall is where Mozart performed to the Salzburg royal family with his father – making it the perfect spot to sit and enjoy his works.
Over 230 concerts are performed here each year by the world's most famous soloists and ensembles, paying tribute to the great composer's legacy. Seeing a show here is an absolute must. Even if you're not a classical music lover, you'll fall in love with the baroque interior and gain a deeper appreciation for the city's cultural roots.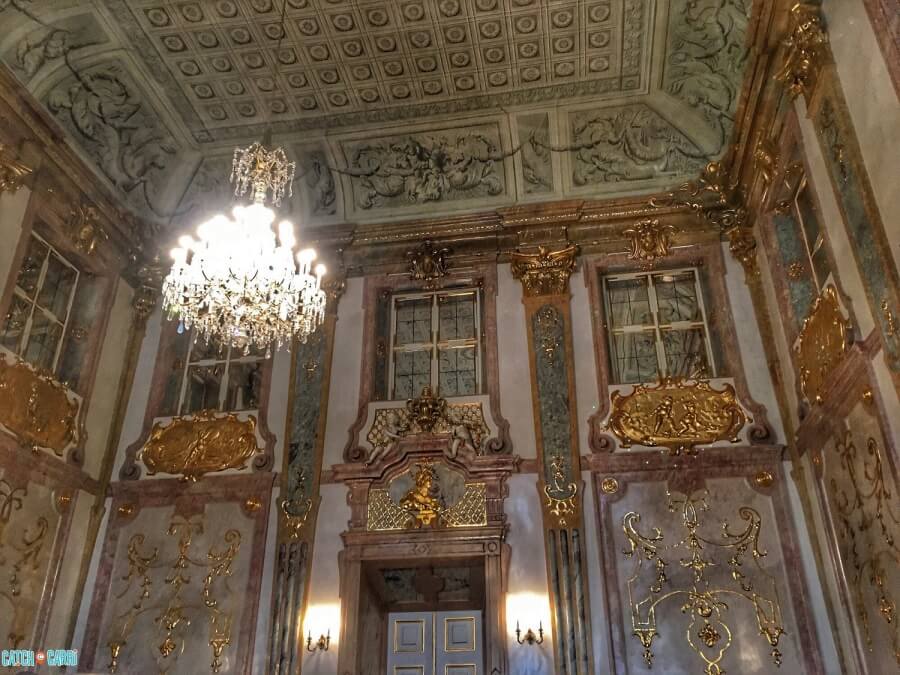 3. Walking around
The best way to experience Salzburg by far is on your own two feet. Grab your coats (and if you're feeling game, leave the maps at home) because the spirit of the city is your walking oyster. If you get lost at any point, the locals love to offer a helping hand. Along your trail, don't miss:
Mirabell Gardens – The famous gardens outside Mirabell Palace are a breathtaking sight particularly if you remember the Sound of Music's 'do re mi' scene where Maria swings on a fountain and plays in the garden with the children. Marvel over the luscious green grass, sculpted fountains and the dazzling array of coloured flowers that are always changing colour.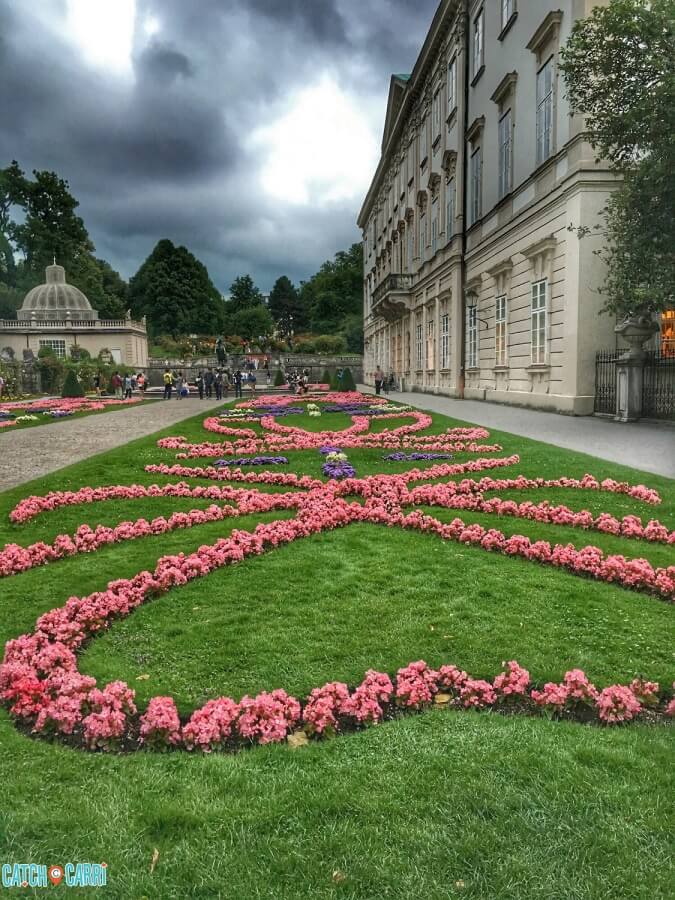 Getreidegasse – The main shopping drag with trendy shops, rustic windows and masterfully crafted signs will remind you why Salzburg is often referred to as the storybook city of Europe. There's as much to be discovered down side alleys and along hidden passages as there is on the central street – Including a lovely 100-year-old schnapps house called Sporer 1903 that you definitely shouldn't miss.
Markatsteg bridge – the bridge right next to Getreidegasse is home to thousands of padlocks which are left by couples as a symbol of romance. If you're in love leave a lock of your own (don't forget to engrave your initials). If you time it right, you'll catch a gorgeous sunset and be treated to a fleeting view of the old town as it transitions to nightlife.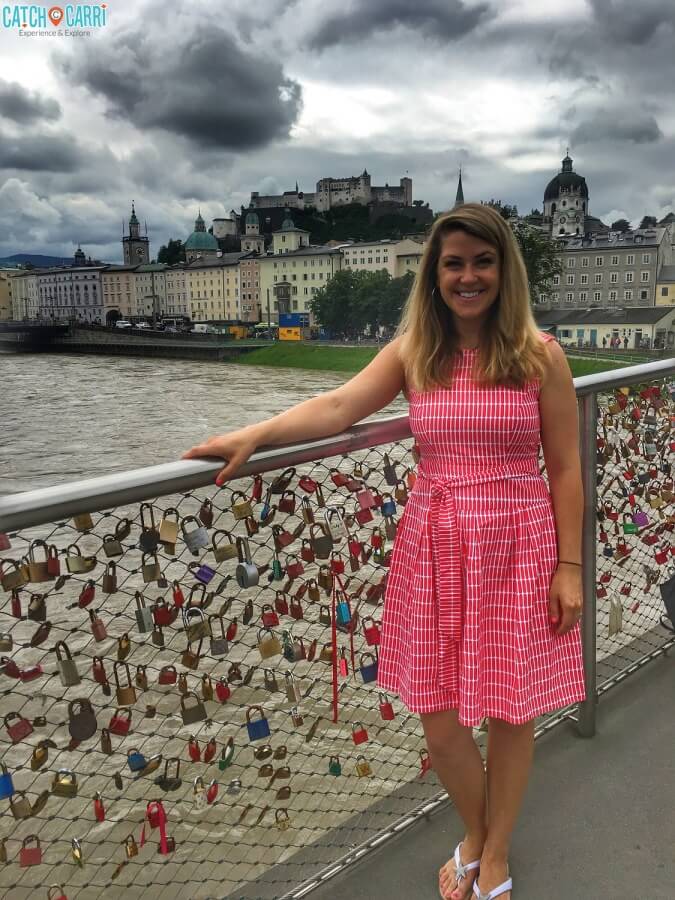 4. Untersburg Cable Car
Experience the incredible view from Salzburg's ice-capped peaks with a cable car ride to the top of Untersburg, the mountain that connects Austria with Germany. The car ride itself lasts 10-15 minutes as you ascend over 1.5km into the sky, but you'll probably be too busy with your head to the glass admiring the scenery to notice the seconds tick by.
Once you've acclimatised to the crisp mountain air at the top, hike further to the Geireck or Hochthron summits, explore the 360 views (the Salzburg lake district can be seen when there's no clouds) or sink into a hearty spread and delicious coffee at the restaurant. My two tips are to remember to take warm clothes (even if the weather is good down below), and invest in a Salzburg tourist card before you go – you'll get your money's worth straight away as well as gain free entry to many other attractions in the city.
5. Eat
Austrian cuisine is colourful and varied, drawing influence from many of the surrounding regions. There's a dash of Bohemian sweetness here, a drop of Hungarian spice there, and Mediterranean seasoning blended masterfully with old-fashioned recipes dating back hundreds of years. Salzburg has the most first-class restaurants per capita in Europe so there are many fine dining options to experience.
Don't leave without tasting the dishes at K+K restaurant (in summer, try and claim a table in the terrace), or trying the traditional Viennese fried chicken or spiralled sausage. If you're looking for an honest restaurant that's as cosy as it is delicious, Zipfer Bierhaus won't disappoint.
6. Stay
Like most European cities with bourgeoning tourist industries, Salzburg is well equipped for most accommodation budgets and requirements. Old Town is a great area to stay in as it ensures you're never far from the action and you can enjoy everything without worrying about finding transport. One of my favourite places to stay is Hotel Am Mirabellplatz, which offers a sophisticated and warm setting to come home to after a long day of sightseeing. Elegant and reliable, it's also located a stone's throw from Mirabell gardens, making it the perfect spot to launch your own walking tour.