18 Jul

Your Guide to A Comfortable and Easy Bike Commute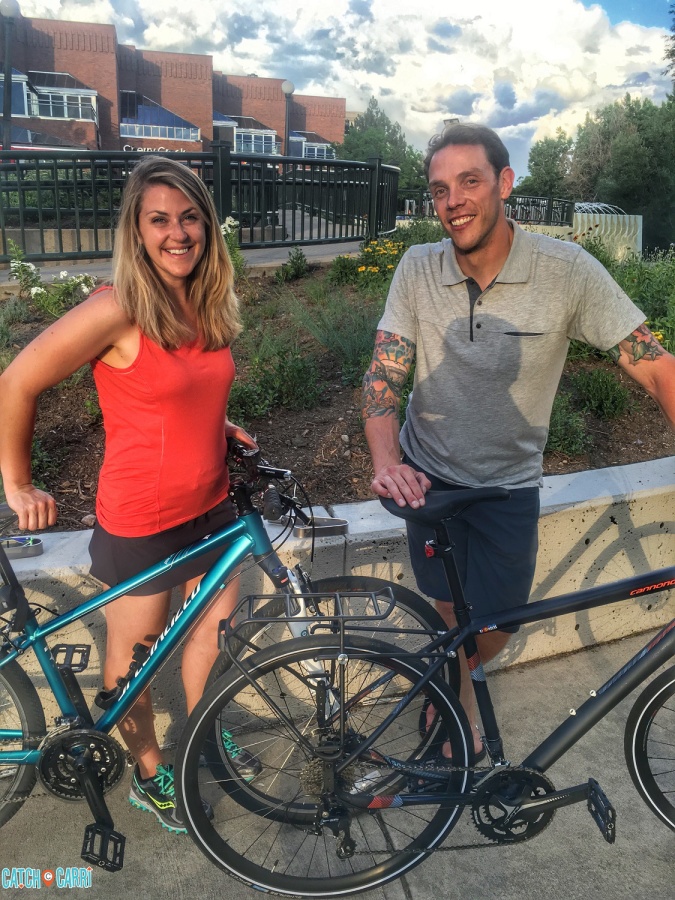 Commuting by bike is becoming even more popular. And I think a lot of this has to do with the gear becoming more stylish and functional. Gone are the days of having to put on loads of unattractive layers to ride to work in winter or even on a rainy day, and now on casual Fridays in some offices (especially in Colorado) active wear can even pass for work wear. My favorite way, by far, to get to work, even on rainy days, is on two wheels. I love it because I cruise past traffic, get in some exercise and never waste time (or money) finding parking.
If you want to start commuting by bike, and I promise it really does wake you up faster than a shot of espresso, here are my top picks for essentials.
The Bike
Cannondale Quick
This bike provides the comfort you want on your rides, a drive train that will never let you down and a disc brake system that provides a smooth and controlled ride. There are specially engineered options for both men and women. The Quick comes with a 2×11 gear setup, which gives the rider plenty of shifting options making for a comfortable commute, no matter the distance or steepness of the terrain. Plus, it's lightweight so heading up hills isn't all that bad. This bike goes beyond commuting too. For those looking for a cross training bike, this ride doubles as a way to pump out miles for a workout too.
Why We Love It
– Versatile- an all around commuter bike that will serve you on cross training rides too.
– 2×11 Gear Set Up so you have plenty of options to shift based on terrain.
– Eye-catching colors, straight of the showroom floor, this bike has style.
Price: $1,300
Link: Cannondale Quick.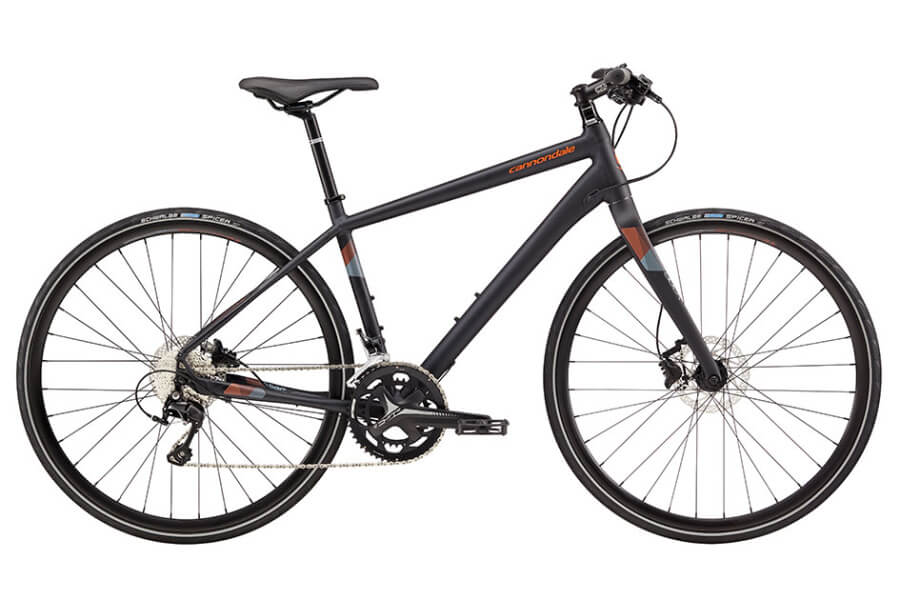 The Helmet
Giro Sutton MIPS
Giro really hit a home run with their helmet designs combined with the MIPS (Multi-directional Impact Protection System). In the event of an impact, the inner casing of the MIPS equipped helmet moves with the direction of the riders head, causing much less stress on the head and neck. While the external casing makes contact with the other objects surface creating drag and absorbing the shock. Giro's helmets are not only functional, they also look downright cool. Take, for example, the Giro Sutton, which looks sleek and stylish and comes in a number of colors.
Why We Love It
– MIPS, by far, this is our favorite feature. This company is really on the forefront of bike safety. – The smooth design, although this helmet provides top-notch protection, it looks great on all riders with plenty of color options.
– The add-ons, the removable visor and adaptor on the back for a light is great, just in case you need them…or not.
Price: $100
Link: Giro Sutton MIPS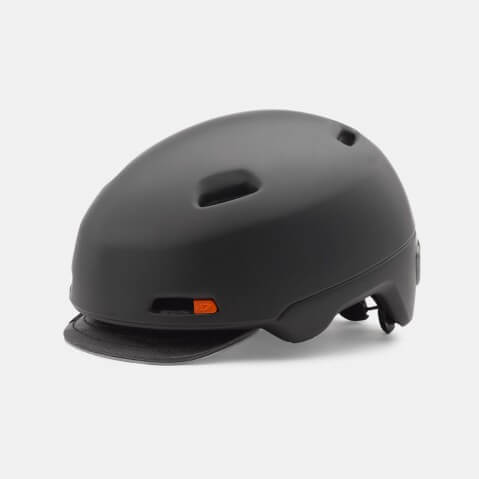 The Gear to Keep You On The Road
Genuine Innovations Small CO2 Tire Repair Kit
Fear no flat tire again. With the Genuine Innovations Small CO2 Tire Repair Kit, you have everything you need to keep pedaling on. The kit includes 1 Microflate Nano inflator, 2 threaded CO2 cartridges, 1 small patch kid, 2 tire levers and a snug zippered pouch that holds it all together.  Using the CO2 cartridge to inflate your tire is a snap, or should I say twist. Just thread the cartridge onto the inflator nozzle, twist until the cartridge is pierced, place it onto the valve stem, then unscrew about a ¼ turn and watch the tire inflate to the proper PSI. Depending on the damage, at the very least, this'll get you rolling to the closest shop.
Why We Love It:
-The kit packs up into a small zippered pouch that is easy to carry or stow-away into you bag.
– All the basics, no unnecessary items
-Warranty- it's a good one that will last a lifetime.
Price: Check your local retailers for pricing info
Link: Genuine Innovations Tire Repair Kit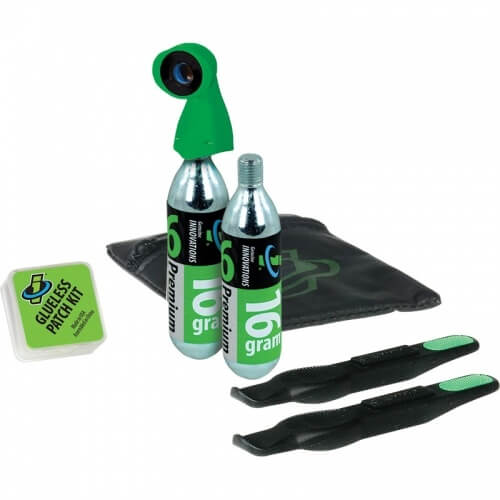 SILCA SuperPista Ultimate Bike Pump
Pumped up for a ride? The SILCA Superpista Ultimate Floor Pumps are the obvious choice. The Superpista pump has a versatile air nozzle that works with a number of different valves. All pumps also feature a thread on 7075-T6 Schrader Chuck. This 3-inch pressure gauge makes it super easy to see where your tire pressure is at to ensure the safest and most comfortable ride possible. The pump also stands high enough to let all but the very tall add more air to their tires in less time without having to hunch over.
Why We Love It:
– Reputation, SILCA was founded in 1917 in Italy. Innovation, progression and quality are all core values.
– Longer barrel for airflow, pumping tires has never been so effortless
– All pumps are made of reliable materials, i.e. metal and wood, if a part breaks, SILCA designed these to be fixed in a synch by simply replacing that particular piece!
Price: $235
Link: SILCA SuperPista Ultimate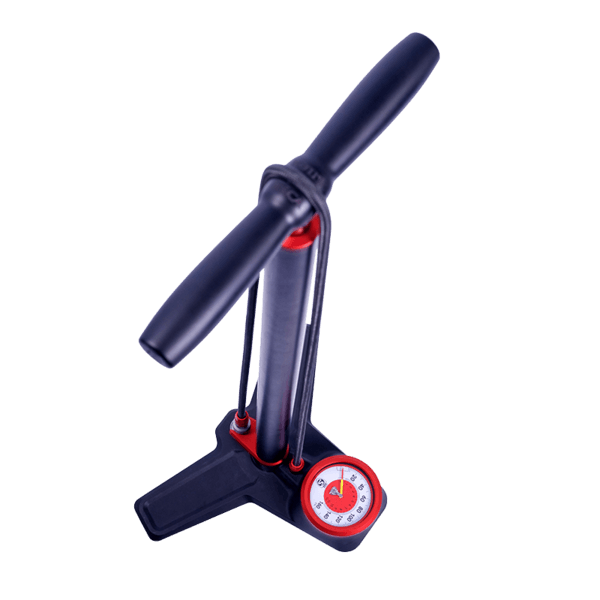 Third, Keep Your Wheels Safe!
TiGr Bow and Mini Locks
Bike Thieves seem to get sneakier and faster. Which is why we go right to TiGr Titanium Locks. The company makes different options including the TiGr Bow and TiGr Mini. All locks are made with titanium, which is tough to cut, break or remove, even to the most persistent thief. Both locks are designed for durability with style. Trust me, just the sheer look of this bad boy will make a thief think twice. The Mini is just as efficient. The lock wraps through the frame, stem and front tire, with plenty of flexibility to get around any street sign, parking meter or traditional bike stand in seconds. The Bow stows across the top tube of the frame with the help of Velcro straps, while the Mini is held in place with a bolt on carrier, located on the down tube. For max security, the Bow is your go to. If your bike is locked up for a few minutes or in a trusted area, go for the Mini.
Why We Love It:
-They've got the look: silver, sleek and durable – 'nuff said.
-Versatility – No bike rack, no problem, both locks latch to the nearest object, just remember, no blue post office boxes.
– Both locks stow-away with ease, you cant hear a rattle or shake, even on the bumpiest commutes.
Prices
TiGr Bow Lock: $175
TiGr Mini Lock: $99 (includes mounting clip)
Link: TiGr Bike Locks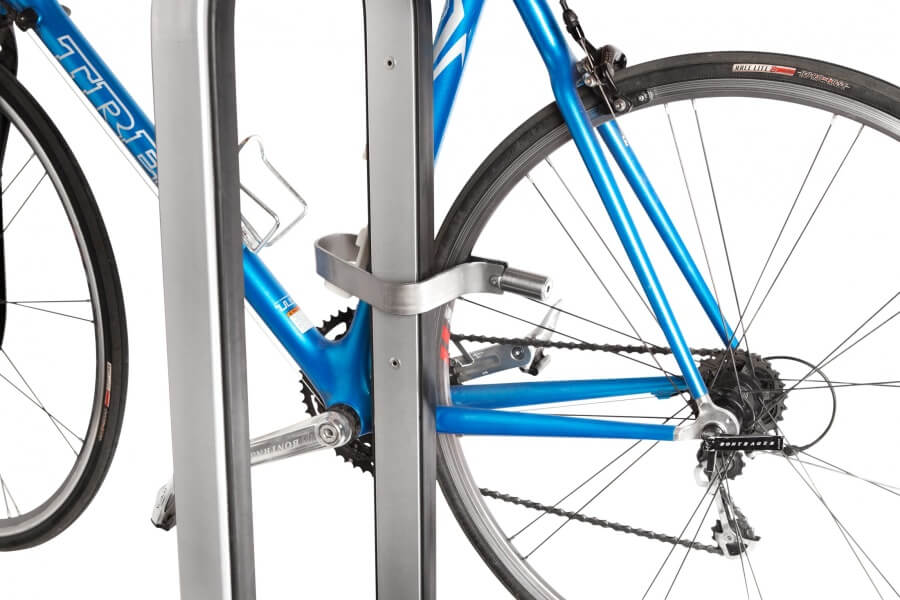 What to Wear: Men
Sugoi RPM Jersey
Sugoi has a reputation of quality and style when it comes to bike equipment for all areas of riding; the RPM Jersey really is one that stands out. Slim fitting, but roomy enough to breath, made of active mélange fabric, a multi fabric woven design, wicks the sweat away leaving the rider comfy and cool. With the style of a polo shirt, you might find yourself rockin' it at the office, on casual Fridays only though.
Why We Love It:
– The RPM moves and breathes well with the rider in any temperature
– With multiple color options, riders can wear this shirt at the office or to a happy hour, wherever the ride takes you.
-The shirt is woven with 30 UPF Sun Protection, perfect to keep you from being over cooked on the ride.
Price: $65
Link: Sugoi Men's RPM Jersey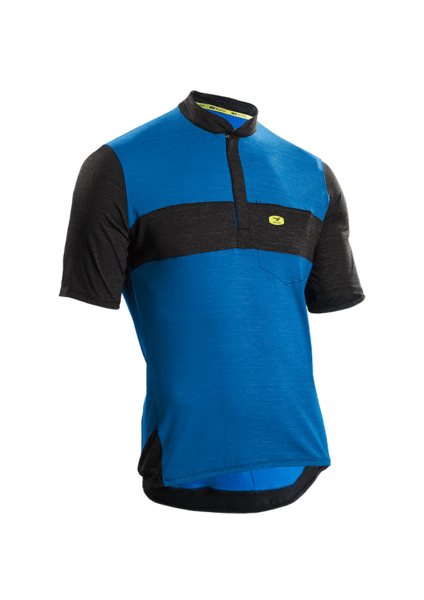 Sugoi Hotshot Pro Jersey
For the tough riders who commute regardless of weather, the Hotshot Pro Jersey is the choice layer for you. Boasting long sleeves, the warmth of a fleece jacket, but thin enough to stow-away into your pack, or use as a base layer for those really chilly rides. The track jacket style pattern and colors make this great for wearing off the bike if you're running errands as well.
Why We Love It:
– Versatile, great as a abase layer for cold days or a simple zip on and ride jacket for mild and chilly mornings.
– Lightweight, but all business for warmth, thin material design allows rider to pack up the jersey into their pack easily with no bulk.
– Semi-form fitting design keeps the jacket close to the rider, so no flappy in the windy when you are feeling fast on your commute.
Price: $110
Link: Sugoi Men's Hotshot Pro Jersey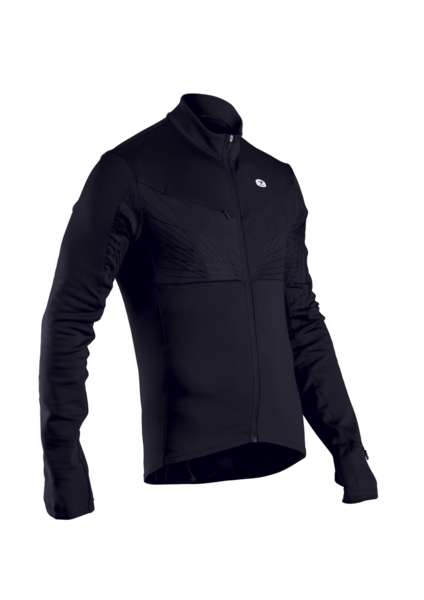 What to Wear: Women
Sugoi RSE Alpha Bike Jacket
The Sugoi RSE Alpha Bike Jacket is our number one choice for staying warm on a ride whether dealing with cold, mist or wind. This jacket is clutch for the person riding in adverse conditions, with lightweight fabric, tough water and wind resistant material to keep you dry and retain your hard earned heat, all the while breathing to keep those sweat stains from showing. Plus, the Alpha Bike Jacket harnesses Sugoi's Wired In Interface Technology, so if you need that extra boost, your headphones can be connected through the jacket from your device to your ears to keep those tunes bumping the whole ride.
Why We Love It:
– An all in one jacket that is form-fitting, warm, water and wind resistant that is just as efficient in style.
– Sugoi really thought of comfort, an offset zipper design to provide maximum comfort to the rider.
– Sugoi also included a chest zipper pocket and two additional storage pockets on the backside large enough to store snacks to ride essential gear, and everything in between.
Price: $230
Link: Sugoi Women's RSE Alpha Bike Jacket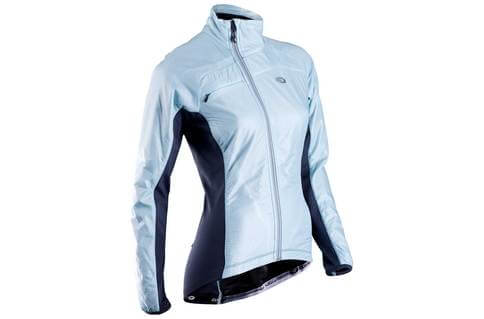 Smartwool PhD Cycle Ultra Light Socks
Smartwool knows what they are doing when it comes to socks, using Merino wool; these are the lightest of their kind on the market and have plenty of ventilation to keep your feet dry. The overall height of the sock is only a mere 1.5 inches so these are perfect to wear with business, casual or the clipless riding shoes, these socks are so stylish, go ahead, wear them with sandals too. The best feature: these socks are stitched together with double elastic, so no need to worry about the low cut design to slip under your heal while pedaling or walking.
Why We Love It:
– These socks are comfortable, plenty of ventilation, reinforced wool in areas of high impact and easy to maintain, wash in warm gentle cycle, no bleach, tumble dry low, wear and repeat.
Price: $16.95
Link: Smartwool Women's PhD Cycle Light Mini Socks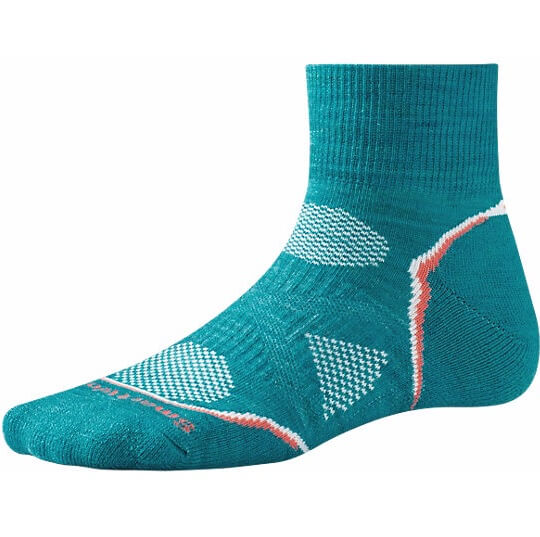 And Then There Is Eider:  Men's & Women's Clothing
For the brand conscious, Eider is always at the top of their game when it comes to style and function. They've been making great clothing since the 60's, their longevity alone speaks for itself. This is why we turned to them for outfitting us with the best ensemble for a casual bike ride. Here's what they pulled together:
Men:
When it comes to ride-to-work wear, the Eider Marqisats Polo is the perfect pick. It comes in four different colors, making it easy to coordinate with everything. Pair it with Eider Secchi Bermuda Shorts, which are lightweight, have zippered pockets and an adjustable belt for a perfect fit, if it's casual Friday.
Women:
A perfect combo for a warm day is the Eider Enjoy Sleeveless Shirt and the Move Skirt. Both are features dry-core technology, which is a fast trying material. The skirt also features comfy stretch knit shorts underneath. And who says you can't pedal in a skirt? It just has to be the right one. Both ensure a comfortable ride.
Unisex
The Eider Bright Jacket is perfect jacket to have on or holstered in case of the summer rains
sorm or breezy evening ride. It's waterproof and offers maximum breathability, which means rains stays out while releasing internal body heat to keep you warm. With color options for both men and women, this jacket is a surefire choice for your time on the saddle.
Why We Love:
– Eider has the technology and permanence backing up their cache of clothing to fit all riders for the right time.
– Great color options for Men and Women
– Made from materials to keep the rider cool, dry and happy, even on the hottest of summer days, these clothing items win hands down.
Price: Find your nearest retailer for more pricing info
Link: Marquisats Polo, Galapagos Short, Bright Jacket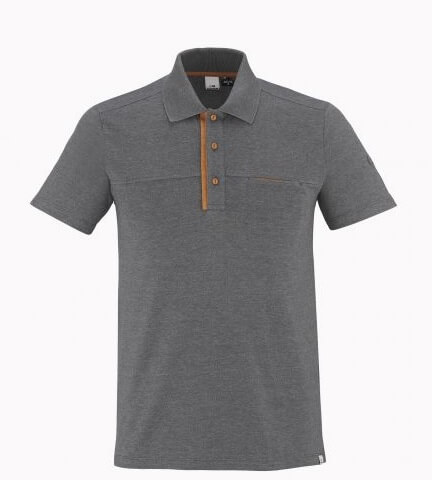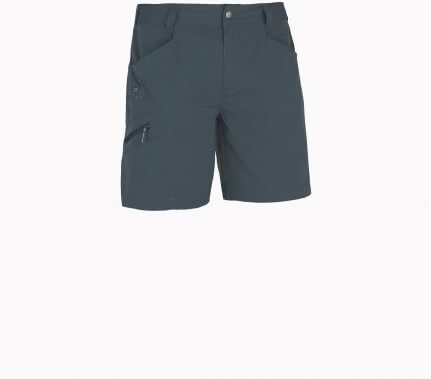 Price: Find your nearest retailer
Link:  Move Skirt, Enjoy Tank, Bright Jacket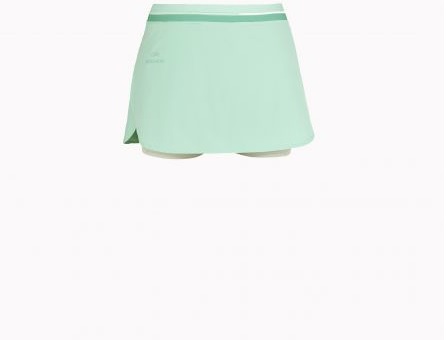 The Shoe
DZR Shoes H20
Looking for a shoe that holds up to the toughness needed for a daily ride in the city? The DZR H2O is the key footwear that is up for the challenge. Made from sheepskin leather, and tested to endure the toughest weather conditions, these shoes will guarantee a dry foot. These shoes are stylin' too, flat soled and ankle high, these kicks can be rocked with any outfit, whether shorts or pants. Looking to step up your pedaling? The H2O is equipped with SPD pedal compatible platforms on the soles, just remove the rubber cover and snap in!
Why We Love It
– DZR designed these shoes perfectly, great looking, functional in all weather conditions and versatile for all levels of riders.
Necessary Gadgets and Accessories
Klean Kanteen Classic 27oz. Water Bottle
The folks at Klean Kanteen know the importance of having cold water on hand, that's exactly why we recommend the Klean Kanteen classic 27oz. water bottle. Sporting 2 options for leak proof lids, either the Loop Top a twist on and off lid for wide mouth use, or the Sport Cap 3.0, a pull-to-use spout. Another cool feature, both tops rock small loop, durable enough and large enough to be clipped onto your bag, belt loop or where ever is easiest to access.
Why We Love It:
– Made from Stainless steel, so that means BPA free, and an electro polished interior, which means no metallic flavor, just a cool crisp refreshment.
– Family owned business, good people on a mission, we like that.
– With ten colors to choose from, featuring Lime Pop and Tidal Pool, these will definitely catch your eye.
Price: $20.95
Link: Klean Kanteen Classic 27oz. Water Bottle
Lifeproof IPhone Case + Bike Mount
Lifeproof Bike and Barmount featuring the Quickmount gives you in-your-face control of your phone. The device accessory is perfect for the rider who needs their phone, whether it's for maps, music or just in case scenarios. First, the Quickmount, featuring an adhesive back to seal itself to any of Lifeproof's cases, regardless of model. Second, the Bike and Barmount, using an adjustable strap that secures to any width of handlebar, simply wrap, clip and its on. The Quickmount slips into the Barmount and is locked in place with the flip of a switch; really, its located on the side of the mount and once the switch is locked on feel free to pedal your heart out. Just remember no texting and riding…c'mon its common sense people.
Why We Love It:
– A safe and secure way to have your phone at a glance to check your maps or listen to music…but seriously, no texting or talking while riding, safety first.
Prices & Links
Lifeproof Nuud Iphone Case: $89.99
Lifeproof Bike + Bar Mount with Quickmount: $39.99
Pannier Bags for Commuting
Bicycle commuting requires luggage, some way, shape or form. With so many options for carrying your belongings, we decided to nail down a few of our favorites.
The Blackburn Central Rear Pannier, an all around great bag for the commute, with plenty of room for a laptop, folders, and other office items, makes it a great choice for work, as its easy to just unlock of the bike rack and hand carry or use the shoulder strap. Plus, with a built in rain cover, you don't have to worry about anything inside getting damaged.
Another great pick comes from North St. out of Portland Oregon with options like the North St Woodward Convertible Bag, perfect for the person who wants the option for a backpack or pannier bag. The straps simply tuck away into a Velcro flap, to keep them out of your spokes; The Woodward also boasts and internal laptop sleeve to keep your new-age typewriter safe and secure.
Why We Love It:
– Options, options and options. These bags give the rider the choice to decide what works for them, whether you prefer a pannier to shoulder carried bag, back pack or one for groceries, these carriers will serve you properly.
Blackburn Central Pannier:
Price: $99.99
Link: Blackburn Central Rear Pannier Bag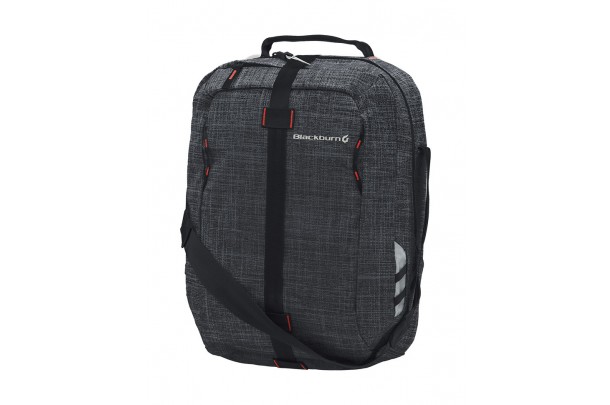 North St Woodward Convertible:
Price: $249.00
Link: http://northstbags.com/collections/woodward/products/woodward-convertible